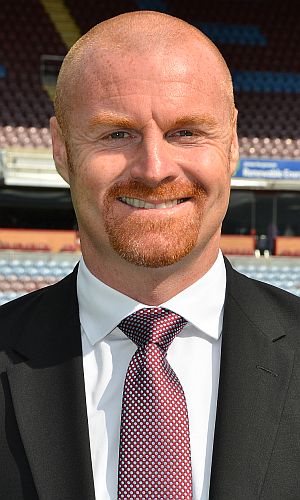 Pulis was hoping to pull off around four deals last Monday but the capture of Darren Fletcher was the only deadline day transfer they got over the line.
He admitted to being disappointed and said: "We needed one or two players in certain areas and we've not been able to do that, so we know it's going to be tough now until the season finishes, but we have to deal with that and get on with it."
Looking forward to the game tomorrow, and speaking about Burnley and our manager, Pulis added: "Sean's a good lad. You talk about solid human beings, he's a solid human being. He's a good lad and his team reflects what he's all about and what he's been about since he was a player. We know how tough it will be there.
"I've watched the last couple of games that Burnley have played at home and they've been unfortunate not to win certain games. It will be a tough game, we know it will be a tough game. In Ings they have an absolute outstanding talent, someone who can score goals and someone who will be dangerous, but you look through and every player there is playing for one another.
"I think they've got great stats, their work rate, effort and commitment is unquestionable so we know it will be tough."
Dyche, clearly frustrated at not getting either of Graham Dorrans from West Brom or Henri Lansbury from Nottingham Forest, will have to go with the players he has for the remainder of the season and he was very positive when he spoke ahead of this game, certainly about our club and those involved with it.
He said: "I've come to value the people here and there has been so much positivity recently that I've got a feeling Burnley people get over their disappointment quickly and realise what we are and get right behind it. I'll be amazed if that doesn't happen.
"I will say that I think myself and the club are always honest with the fans. We always are, and it's not an easy situation for us; even more so at this level.
"Signing players often comes down to the numbers and it's hard for the club and the board to write off large chunks of money when the club going forward might not be able to deal with that. It has to be measured, but I can assure the fans we have been out there looking, despite the story of this email to agents. We all know the movers and the shakers in the market and that was to prompt any last minute moves.
"We are giving honesty, not hiding behind the market. We said it's tough and we have tried and tried, but there has to be a level within reason because otherwise the club will fall into big trouble in a very, very short future. That's the challenge and it's a tough one."
With tomorrow's opponents West Brom, and Forest, pulling the plug late on deals, Dyche added: "That can happen, but I will remind everyone that we have a fantastic group of people here and we are 17th in the highest level of world football.
"Let's not forget where we are, what we are doing and what got us here. Let's remember what this club is built on and the pride we've all jointly taken in how we go about our business. So before anyone gets this weird mindset of negativity, let's remember the positive journey and the people who have been key in that, not just the players, but the fans too.
"After ten games we hadn't won a game, but our fans were amazing. We're now 17th so how are there suddenly these question marks? They are key markers and there is a bigger picture. We want to operate in the market, we made that clear. We couldn't. but we will look to do it again.
"Let's not forget what has got us here and that's a group of players giving everything for this football club. Let's also not forget what we are; a fantastic, deep, rich football club full of history, so let's protect that, safeguard it and keep working hard at that one club mentality because that is vital.
"It's one of our unique selling points, an aligned club all pulling in the right direction. That's a powerful thing and it needs to be protected."