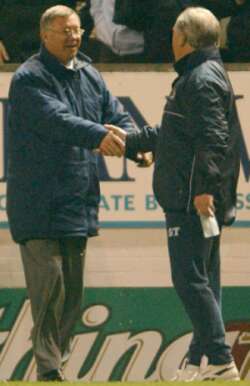 The two managers shake hands at the end of the game
But apart from that both managers were pleased with the performances of their respective sides as our Worthington Cup run came to an end at the hands of United.
Ferguson was happy enough to be through to the last eight but was wholesome in his praise for the Clarets after the match, just as he had been when discussing opposing boss Stan Ternent before kick off.
He said, "I thought we showed a lot of resolution and fight against a team that gave everything. We really had to work hard and they were a bit unlucky and made it a real cup tie.
"I was worried at times in the second half but I did sense that in the second half we were getting more penetration and creating some chances. It kept them stretched and by doing that I didn't worry quite so much as in the first half."
He had spoken about Stan before the game and wondered just how he had never been given the opportunity to manage in the Premiership but after the game he told the TV audience, "Stan has given me a bottle of red wine. I've had a look and it is a nice wine so I'll be able to enjoy that now."
Stan used the same word that was on the lips of every Claret after the game last night, PROUD – and so he should be as his team, each and every one of them, gave him everything.
"I thought we played really well tonight. It was a good open game of football and we passed the ball around well.
"We created a lot of chances although perhaps not clear cut chances but the first goal is always important and they got it and of course goals chance games.
"We went with three at back in the second half to try and get more width with Glen Little and Alan Moore but that gave them more chances but the lads did Burnley Football Club proud tonight and the fans will also have enjoyed it. It was a really good game of football and an enjoyable experience for us.
"That's the standard we have to aim for and they showed how important passing and ball retention is at that level. We must now try and continue that level of performance and hopefully we can finish in a better position than we have in the last two seasons.
"We'd have settled for Spurs and Manchester United at home at the start of the season and the fans will have enjoyed it. United are a top side and anyone who can replace Ruud van Nistelrooy with Ole Gunnar Solskjaer as well as bringing on Paul Scholes and Ryan Giggs must be a good side."
And he couldn't leave without a mention of the bottle of wine. He said he had given it to Ferguson before the game in case he didn't feel like doing it after but added after the game,
"I've given Alex a nice bottle of red wine and I'm sure he'll enjoy it. It was an expensive bottle for the wages I'm on."
United reap rewards for keeping faith with cool Forlan
Oliver Kay (The Times)
MISSION accomplished for Manchester United. Not only did they neatly sidestep this Worthington Cup banana skin en route to a fourth consecutive victory, but they also did so without adding to a lengthy injury list that Sir Alex Ferguson hopes will have receded by the time Arsenal visit Old Trafford on Saturday.
The newly prolific Diego Forlán and Ole Gunnar Solskjaer scored the goals that booked United's quarter-final place in a competition that they once treated with disdain, giving them a clear conscience before they focus on the more glamorous assignments that lie ahead.
The line-up that accounted for Burnley was by no means full strength, but nor were those that had overcome Newcastle United, FC Basle and Liverpool in the previous three matches.
Ferguson, standing by his promise to take the Worthington Cup seriously, deployed players such as Ryan Giggs, Paul Scholes and Ruud van Nistelrooy, all of whom emerged unscathed. With Fabien Barthez, Gary Neville, Laurent Blanc, Quinton Fortune, Juan Sebastián Verón and perhaps even Rio Ferdinand to return on Saturday, things are suddenly looking up for United.
No one is profiting from their renewed self-belief more than Forlán, who added to his two goals at Anfield on Sunday by dampening Burnley's enthusiasm with an increasingly characteristic finish in the 35th minute. Once a figure of ridicule, the Uruguay forward has now scored six goals from eight starts this season and, to the justifiable smugness of the United manager, is starting to look something like a £7.5 million forward.
"He's enjoying himself," Ferguson said. "When you're getting the confidence from goals, you feel you can run all night. That's why we took him off towards the end."
By the time Forlán was replaced by Giggs with 15 minutes remaining, Burnley's spirited challenge had long since evaporated. The Nationwide League first division side, who eliminated Tottenham Hotspur in the previous round, made a lively start but could not sustain that momentum against a United team who were not content just to go through the motions. "They (Arsenal) might think it's an advantage to have a free week, but winning games allows your confidence to grow," Ferguson said.
It was only in midfield, where John O'Shea was unexpectedly employed alongside Michael Stewart, that United were lacking experience, so it was there that Burnley tried to impose themselves in the opening stages. The home team were evidently eager to make up for lost time, having had to wait 15 minutes when the kick-off was delayed because of congestion. Barely a minute had gone when Robbie Blake sped past Phil Neville, sending in a cross from which Gareth Taylor came within inches of beating Roy Carroll.
Carroll, surprisingly preferred to Ricardo after Barthez was given the night off, had a hectic start as the trickery of Glen Little, the speed of Blake and the aerial threat of Taylor caused problems for a defence in which David May, the forgotten man of Old Trafford, looked understandably rusty at first. Gradually, though, United began to assert their authority, with O'Shea warming to his task in midfield. "I think he's capable of playing in there," Ferguson said. "I thought he did well." It was O'Shea who created the opening goal, stepping forward from midfield and playing an intelligent through-ball that allowed Forlán to sprint clear of Burnley's offside trap before steering the ball past Marlon Beresford.
It may have been harsh on the home team at that stage, since Taylor and Lee Briscoe had both gone close, but United were creating the better opportunities. Moments earlier, Luke Chadwick, who showed occasional glimpses of a talent that has stagnated over the past 18 months, set up Van Nistelrooy, only for the forward to shoot straight at Beresford from six yards.
The lead prompted Ferguson to introduce Solskjaer in place of Van Nistelrooy at half-time, but Forlán remained a thorn in Burnley's side, setting up half-chances for Stewart and Danny Pugh within minutes of the restart. A delightful dummy created the opening for Pugh but the winger, on his first full appearance, could not beat Beresford.
United's young forward line were creating no end of opportunities, but it took a relatively old head to put the match beyond doubt. After another purposeful run from Chadwick, Solskjaer unleashed a stupendous finish from just inside the area that left Beresford clutching at air.
"It was game over after that," Stan Ternent, the Burnley manager, said. "It's never nice to lose any game, but it was an enjoyable experience for us to play against Manchester United. They had a few players missing but, whatever side they put out, they're an exceptional team and they showed that tonight." Arsenal have been warned.