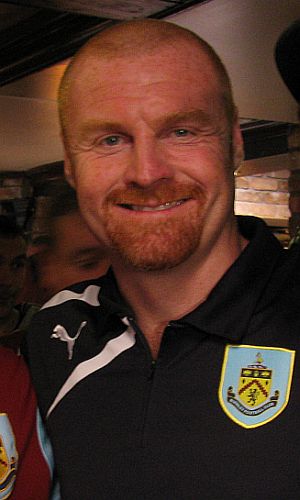 Stuart Gray saw Chris Maguire equalise a Sam Vokes goal and felt his side should have had a second half penalty to go on and win the game. Referee Stuart Attwell saw it differently and yellow carded Maguire for diving.
Gray said: "I know Chris Maguire and he would not go down if he wasn't touched. He was coming inside on his left foot and he will have wanted the shot, with the form he is in. I tell the players that if they are to win penalties they should do it honestly."
He was delighted with their overall performance, adding: "They have given absolutely everything today and credit to them. They deserve the rewards they are getting with the unbeaten run because they are simply working so hard.
"They couldn't have given any more today and any manager or coach can't ask for anything more. We have played a quality side today who are unbeaten at home and Sean Dyche has just said that is the best they have played all season. But we have come away with a point and we deserved it.
"I wasn't particularly comfortable in the last few minutes because they threw everything at us and went route one for a winner, but we have held firm at the back and Chris Kirkland has made a super save right at th end to keep the score at 1-1.
"I'd have been very disappointed to come away with nothing to day because everyone has put in a proper shift."
Dyche was adamant after the game that the performance was one of the best we've given all season, and that is something given some of the outstanding performances we've already seen.
"I am so impressed with that performance today," he said. "It's right up there as one of the best we've had and certainly one of the most dominant, from the first whistle to the last.
"The mix we want, the organisation and the energy and the quality as well were all there. Did we give everything? Yes, I think we had 22 chances and their keeper has been terrific.
"We have hit the post, had chances cleared off the line and should have had a penalty in the second half. They should have as well, to be fair, but you have to do everything in a game to try to win it and I felt we did.
"Sometimes you just don't get the rewards you deserve, but the effort, belief and application in the group was on show again and it would have been an absolute travesty if they had got more from that game.
"The players have done everything and that is a marker for us. I told them afterwards that they should be disappointed, but only in the outcome because the performance was first class. If you are that dominant eventually someone will catch it and they will all go in."
Ashley Barnes got a home debut just before the end, coming on for the impressive Keith Treacy. "We felt that we wanted the three strikers up there at the end and I thought we adjusted well," Dyche explained.
"What can you say. We have done everything and I thought we dominated on virtually every level. It was just the result and sometimes that happens, but sometimes the opposition has one of those days and I'm sure we'll need one down the road somewhere."