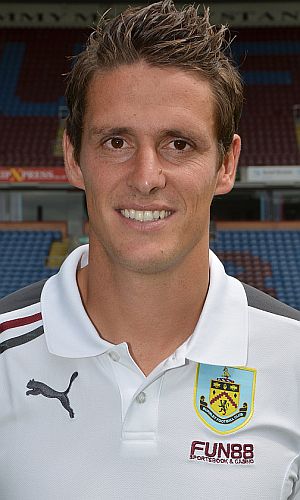 Poyet has been doing a Coyle this week and has been moaning about his budget being bottom half of the Championship and warning that it could cost his side a promotion.
He said before departing for Turf Moor: "That is the real part of the league. When you have a massive budget and you are not in the place you should be it's problems, because you have the chance to play the best players and play them week in, week out.
"When you are in the bottom ten or eight of the budgets in the division and you are at the top, yes you are going to get credit and recognition but, at the same time, you get to the key games, the most important part of the season, maybe you pay the price.
"Like I have said before, let's stay realistic, because I don't want it to become a failure if we don't make the play offs when it's not. It's already an unbelievably successful season."
Speaking about today's game, he added: "We are going to have a go. Inside the dressing room we know where we are standing. We know the chance we have got.
It was winger Will Buckley who spoke about the Clarets and he said: "Burnley are unpredictable and on their day they can be a very good side. They beat us down here but it was a bit of an off day for us because we had two players sent off.
"We'll go into the game to win it but we are aware of what they are capable of. They went to Portsmouth and won 5-1 last weekend and you have to be a good side to do that, so we are wary of them. We are confident we can get a good result though."
There's not been too much said of the game down there and their upset at having those two players sent off, but Burnley assistant boss Jason Tindall recalls it.
"I felt the referee made the right decisions. It was unfortunate for Brighton but I wouldn't say that's going to add any more spice to the game because of what happened down there," he said.
"Having two players sent off so early in the game made it very difficult for them, but also made it difficult for us in a lot of ways. They set everybody behind the ball and we had to try and break them down, but it was a great day for us because we came away with three points.
"I'm not expecting the same type of game. Brighton are a really good side which plays football the way it should be played. They are coming here to try and win the game, just as much as we are. They are in a great position in the play-offs and they will want to stay there.
"They have had a fantastic season so it will be a very tough game for us, but it's one we believe we can win. Hopefully it can be an enjoyable game but the only way we will make it enjoyable is if we win the game."
Tindall also spoke of Sam Vokes who was on loan with the Clarets until January but then moved on a similar deal to Brighton. "Wolves didn't want him to go out on loan at the time. They wanted to keep him around their squad or maybe make a permanent deal happen," he added.
"As time went on their decision changed and by the time their decision changed we were in a different position. We took Josh McQuoid on loan so it made it difficult to bring him back because of finances so he went to Brighton and since he went there he has done very well.
"He's a good player. We are aware of Sam's strengths and hopefully we will be able to combat those and put on a good performance and hopefully not let him score."