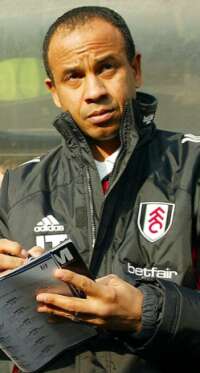 Jean Tigana takes time out to read the programme during yesterday's game
Fulham boss Jean Tigana was not particularly happy about his own team's performance but paid tribute to the Clarets although he did describe us as a long ball team.
"I'm not happy with the performance because we started badly," admitted the former French midfield star. "We were disappointing in the first half but started to play in the second half.
"It was a tough game and not helped with the internationals during the week. They always affect us.
"Burnley though are a good team and I remember the matches with them before in the First Division. They are a typically English team who play the long ball game and fight for the second ball. They have a very good spirit."
Stan was happy with the day's work although he did feel that Fulham pushed us back in the second half.
"I'm really pleased to get them back to Turf Moor and we had to work extremely hard for it," said Stan. "We had a good shape and balance and we were able to keep it and get what we wanted which was not losing the game.
"It was backs to the wall stuff for most of the second half but the players stuck to their task and deserved the draw. They gave their all and it would be unfair of me to single any one of them out.
"It will be tough in the replay, they are a quality side with good players particularly going forward. We have home advantage though and I know my players will be fit and ready for it and we will give them a good game.
"There'll be a big crowd there and a great atmosphere and I hope Sky will take the game. The fans were excellent, football is an expensive hobby nowadays and they were superb."
Echoes of the past swing Cup tie in Burnley's favour
David Miller (Daily Telegraph)
History lay thick on the ground at Loftus Road yesterday. Forty-one years ago Fulham and Burnley contested an FA Cup semi-final, both the clubs then respected by the best, especially Burnley, who were hoping that year to emulate Tottenham's Double of the previous season. The way the competition is going this season, both teams can justifiably have hopes of reaching the semi-final once again.
Burnley went on to win in 1962 after a replay at Filbert Street, Jimmy Robson scoring twice in a 2-1 victory. Yesterday, Fulham deserved a kind of revenge, dominating the second-half but finishing poorly, Louis Saha in particular. Their best chance may have gone against resourceful opponents who defended so effectively. They have not won at Turf Moor for 52 years.
Stan Ternent's present team, playing well above their First Division status, are an echo of the fluid side of Harry Potts in the early 1960s. They played some of the most attractive football West London will have seen this season, and were seldom under pressure until a minute before half-time when Steed Malbranque cancelled out a fourth-minute goal by Alan Moore.
There may nowadays be no Adamson, McIlroy, Pilkington or Lochhead at Turf Moor, but the variety of Burnley's 4-1-4-1 formation - with Paul Cook sweeping in front of the back four and Alan Moore making diagonal runs from both flanks of midfield behind Gareth Taylor - throughout the first-half gave Fulham as much to think about as most Premiership teams and more than some.
The noisy support of a couple of thousand from Lancashire reflected Burnley's place in the game. How fondly we remember when 50,000 witnessed some of the greatest games played post-War. Burnley are to English football what Brunel's Iron Bridge is to engineering: an example of 19th Century ingenuity and resolution still capably functioning today.
Fulham barely had time to get into their stride before Burnley were ahead. Alan Moore, cutting in from the left, cleverly evaded Alain Goma and John Harley before slipping the ball underneath the advancing Maik Taylor. Fulham responded with repeated attacks, Saha and Facundo Sava always threatening, but they found Burnley's central defenders Ian Cox and Drissa Diallo resolute.
After a quarter-of-an-hour there was consternation among the Fulham crowd when Saha was brought down on the 18-yard line after rounding two defenders, but the ball had already run away from him and the referee Graham Poll had no hesitation in refusing a possible penalty.
As half-time approached, Burnley were at last being forced on to the back foot and when Cox made a partial headed clearance Steed Malbranque, standing on the edge of the penalty area, had time to control the ball, look up, and coolly place his drive beyond the reach of the visiting goalkeeper Marlon Beresford and just inside the far post.
It might have been expected that Burnley, lying 15th in the First Division - the same as their rivals in the Premiership - might now have faltered, yet though Fulham came at them with a vengeance, they held firm.
Saha and substitute Steve Marlet got Fulham off to a lively start in the second half but both were off target. Marlet had a hooked drive blocked and Sean Davis, making a 20-yard supporting run, drove just wide. In spite of the pressure, Burnley remained mostly calm, their supporters kept up a tied vocal support, and in the final minute Beresford came off his line to head clear another Fulham assault. It was a fine Cup-tie, and Burnley, so close to the play-offs last season, had shown that under Ternent, their future remains promising.
Back in 1962 Burnley lost the final to Tottenham and finished second in the League. Ternent is in search of glory.
"From my point of view," he said, "I'd like the easiest draw tomorrow so that we can progress another round. From the club's point of view, they would probably prefer Chelsea or Arsenal away, because we have a £4 million deficit from the collapse of digital television."
Fulham manager Jean Tigana was also exercised about the future. He had further contract talks with club owner Mohamed Fayed on Saturday and warned again last night that he will not renew his contract when it expires in May unless Fayed is more forthcoming about his plans for the future of the club.
"Where will we play?" asked Tigana. "Will we still try to build a young team, which is the sort of team I like to manage? I want to know. The problem is not me - it's what the club want."
Burnley draw on strengths
Alyson Rudd (The Times)
THIS WAS A GLORIOUS Cup tie. Do not let anyone tell you that Burnley were lucky, that they earned a replay courtesy of a freak early goal. Burnley were architects of a well-deserved draw. The moral of this tie was that opportunism, allied with determination and fine organisation, can reap dividends. It was the Barclaycard Premiership team that were let off the hook thanks to an individual piece of brilliance.
Alan Moore, the former Middlesbrough midfield player, gave Burnley the lead in the fourth minute. He ran up the pitch as if he had had a vision that a long jog and a gamble would pay off. As he ran, Sean Davis passed the ball back towards his defence. There seemed little immediate danger, but Andy Melville and Steve Finnan left Davis's pass alone, anticipating that the other was about to mop it up. Moore kept running, ran in between them, nicking the ball in the process and produced a calm, neat finish to beat Maik Taylor.
In these days of financial constraint a replay can be a fiscal godsend. "I hope the television take the match," Stan Ternent, the Burnley manager, said. "It would be a lot better news if Sky took the match." The television rights debacle has left Burnley with a £4 million deficit.
Fulham's problems are less straightforward. Will Jean Tigana stay or go? The Fulham manager said he had met with with Mohamed Al Fayed, the chairman, over the weekend, but there is still no firm decision on whether Tigana will be Fulham manager next season. "The problem is not me," Tigana said. "I need to know about targets. I don't know where we will play, the new stadium." Should Al Fayed and Tigana fail to agree fresh terms, Tigana seems likely to give up the game altogether.
"It's possible," he said to the suggestion he might simply go fishing. Of more immediate concern is that the replay is scheduled for February 26, two days after Fulham's televised game at White Hart Lane. Tigana indicated he would try to change one of the fixtures. Burnley would be livid if any change meant the loss of revenue.
The Nationwide League first division team had embarrassed the Premiership club with Moore's opportunist strike. An onslaught was called for but instead the home fans became increasingly frustrated as Fulham failed to gather their composure. Louis Saha was perhaps most guilty of raising hopes only to fluff the end product. In particular, a clever header from Façundo Sava landed in Saha's path but Saha shot over the bar. He held his head in his hands, the supporters groaned.
Just before the half-time whistle, Fulham equalised. A headed clearance from the excellent Ian Cox was controlled by Steed Malbranque on his chest. He let the ball bounce and then unleashed an unstoppable strike.
In the second half, Burnley continued to apply pressure, the best of their chances coming from Lee Briscoe. Taylor just managed to hold on to Briscoe's effort with Gareth Taylor, playing as a lone striker for Burnley, ready to pounce on any fumble. At the death, Malbranque tried to lob Marlon Beresford but put his attempt wide.
Almost 3,000 Burnley fans had travelled to West London and their sheer enthusiasm played a large part in creating a fabulous atmosphere, one in which the Burnley team could convince themselves that anything was possible. It is 52 years since Fulham last managed to win at Turf Moor. "It will be difficult for us," Tigana said, although he added that his priority this season is not the FA Cup but to keep Fulham in the Premiership.
"It's not the size of the dog, it's the fight that's in it," Ternent said of his side's impressive team spirit. "We enjoy our work and have a laugh and a joke," he said.
Right now that is not something that Tigana could claim. "I know a few players have lost confidence," he said. Chief among them are his strikers none of whom has found the back of the net in seven matches.
Ternent refused to single out individuals for praise but his two centre halves were exceptional. Partnering Cox was Drissa Diallo, who signed last month from KV Mechelen. Together they looked capable of the move up to the Premiership, which is still a slim possibility for Burnley through the play-offs should they perform for the remainder of the season with the gusto they exhibited at Loftus Road.