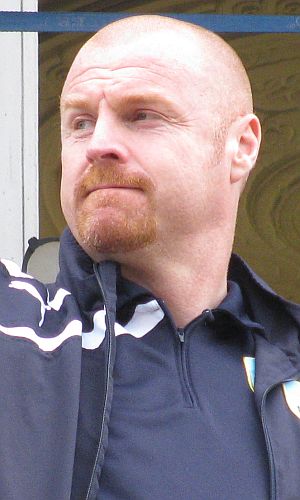 He was all but declaring it their best performance of the season and said: "To perform the way we have done in our local derby, and to create the number of chances that we have, it is a massive sickener.
"We've had enough chances to have won more than one game but we haven't been ruthless enough in front of goal. In the first half there were a couple of chances and Heaton has made a decent save, but in the second half we carved them open with the football that we've played and Tom (Lawrence) and Jordan (Rhodes) have had two great opportunities.
"Then we've conceded a soft free kick and we've not defended the second ball on it, so it is hugely disappointing.
"We can't fault the effort and the commitment from the players, it was there for all to see. We've hit the bar and even at the death Heaton has tipped a header over the bar from Shane (Duffy).
"Our supporters were magnificent for us but unfortunately the best team has lost today."
Sean Dyche was delighted but said after this, his second win at Ewood: "That one is beyond me. It's for the players and the staff, but it's mainly for the fans. I meant it before the game and I wasn't looking for headlines, it's the people's game and you want to come out on the right side of it, and we have again.
"In my first few games here, Paul Robinson was absolutely outstanding at our place. Then, in subsequent games, there was a deflected goal and an offside goal for them here.
"Finally we got the win here and there was a twist of fate today that came our way, but on balance I certainly won't be crying in it because we've had our fair share going against us.
"Credit to Blackburn because they have opened us up for a few chances, and certainly a great one in the second half, but other than that we handled them pretty well and we've scored a sublime goal."
He said of the winner: "The control and detail in the technique was fantastic. I wasn't so keen n the celebration, although I understood why. When you are running back to your own end, the referee is within his right to restart the game, but I fully understand watching a player who has scored a marvellous goal.
"I've mentioned it so many times though that you need to find different ways of winning. We've played better with the ball than that, but that moment of quality and the defensive side of the game, how organised we were and what they gave for the cause was on show for all to see."
Dyche also commented on the possible penalty for a foul on Joey Barton. "How we didn't get a penalty is beyond me," he said. "I've seen it back and Joey Barton is fouled. If it's not, there's some afters and someone trips him up and should be sent off. If that had been Joey Barton tripping someone up, I think he gets sent off."