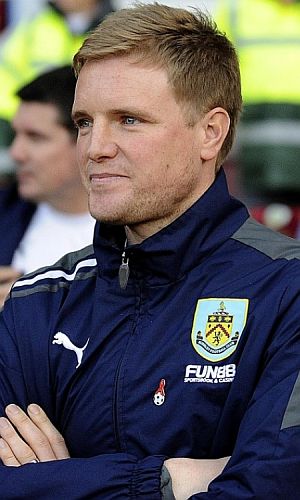 Poyet had seen his side reduced to nine men in the game between the clubs at the Amex in December before losing 1-0 to a Kieran Trippier goal, and today, despite keeping all eleven on the pitch it was a Charlie Austin goal that repeated the scoreline.
Poyet had seen quite enough and made his way out before the game had finished and when he spoke after the match, he said: "There is a time when you need to know when it's enough, and it was enough."
In the briefest of press conferences after the game he added: "It's a missed opportunity for us - a big miss. I've been looking at Burnley and they have a few problems with a few key players so I don't think it was a bad time to play them, but we didn't take it so there is no-one to blame apart from ourselves."
Howe though had plenty of problems even getting a team out because of injuries and he enthused: " I thought it was a really good football match between two really good teams.
"We started well and scored a really good goal and the second half was more back to the wall, but we dug in really well and that half pleased me most.
"With Ross Wallace, who was excellent, at left back, David Edgar feeling his groin and Marvin coming off with a hamstring injury we are down to the bare bones. So it was a really great effort defensively and a really huge effort and a good win."
He added: "Lee Grant made a great save early in the second half, but he is a very good goalkeeper. He is very good with his feet and for how we want to play that is crucial. I think he has had a good season. He's made one or two mistakes, but who doesn't in life. I certainly do and I'm sure everybody does. It happens, and you have to learn from it and move on."
Speaking about goalscorer Austin, he said: "Charlie has come right back with his hat-trick at Portsmouth and his all-round game today was brilliant. His strike rate is up there with the best and it speaks for itself. He has really got his spark back and he and Danny seem to like playing with each other. It was a tireless effort from both strikers and they were a real thorn in Brighton's side.
"They are a good team and that only adds to my frustration because we have taken six points off them and we really should be higher in the league."
With injuries piling up, Howe explained the absence of Howieson from the squad. "Cameron was ill today and that's why he didn't take his place on the bench, but it was good to get Stevie some game time.
"He has been waiting for it and I thought when he came on he was excellent for 10 minutes. He showed the fans that he is composed and a good footballer, so that's good signs for him.
"We have serious injury problems for Monday, but we will see who we have and whether we need to call up some more youth team players, but at this stage of the season and with our current league position it's not the end of the world and it's giving the fans a taste of what the future is going to be about."