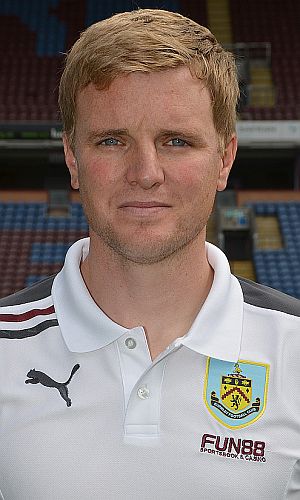 Nigel Clough, who yesterday had said a clean sheet was his main priority, admitted: "I was very satisfied, not just with the point but with the way we played today. To come away from home and keep a clean sheet, and it not to be a negative clean sheet in any way is pleasing.
"We were as positive as we could be, had the majority of the play we think. We played some good stuff today and apart from one or two skirmishes we looked very solid.
"The wind was awful. We are down here now pitch side and you can see it is swirling around. In the first half Frank (Fielding) was kicking it, some were just reaching the half way line and other ones were getting to the edge of their box. It really was all over which puts into perspective how well we played in the second half, getting it down and knocking it around. It made it difficult for the players to control the ball but we coped with it probably better.
Clough spoke about the save that denied Jay Rodriguez a goal in the second half: "Frank Fielding has only had one thing to do in the game and it was an outstanding save again. It came over to the far post and he kept it out with his leg which was the difference between us getting a point or not.
"He did well and I think the introduction of Jeff Hendrick for James Bailey, who was feeling under the weather, at half time was good for us. He got onto the ball and got us passing it a little bit and that made a positive difference from our point of view."
Burnley boss Eddie Howe shared the frustration of the fans. "It's unlike us to be involved in a goalless draw," he said.
"It's been a long time and we don't do 0-0, but I'm delighted with the back four and the whole team in front of them because we really do look solid at the moment. That's the most important part of the game and if you get that right you have a chance.
"At the other end, we created enough chances to win the game. We started well and on the front foot, had a few early chances and things looked good. I don't think we created fantastic opportunities and we never had control of the game, but there were enough for us to probably take one and win the game.
"It wasn't a great spectacle though. Both teams suffered with the strong wind and it was difficult to get a flow to the game, especially with how slow Derby re-started the game. They gave us a lot of respect and you could see from the goalkeeper in the first couple of minutes that they wanted a point.
"You could tell from the first minute that he was taking forever over his goal kicks, much to our frustration. Teams will look at a point at Turf Moor as a great result, however we have to do better.
"It's up to us to break these teams down in the final third. That's the challenge, but this is another positive step for us in our progression.
"We haven't played as well of late, but we haven't lost either. We've drawn a tight game at home, which we haven't done for a long time. Whenever it's been a tight game here, we've usually come out on the wrong side of it, so we have to look at that as us getting mentally stronger."
Howe also had a word for Josh McQuoid who came on for the injured Ross Wallace at half time. "Ross had a back problem that he couldn't shake off at half time and we hope that isn't too serious.
"That gave Josh his chance. He is a talented lad but he hasn't had a lot of football and I think you could see that at first, but as the half progressed he got into the game and showed us what he is all about.
"He is a good footballer, he is quick, has good feet and can score a goal. I think he got better as the half went on and showed the Burnley fans what he is all about."