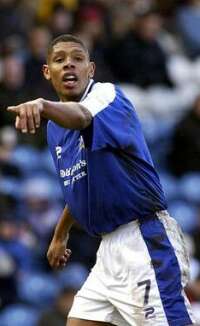 Palmer during yesterday's game
The biggest problem they have is quite clearly the manager who not content with picking up England caps under false pretences is now being as unprofessional manager as it is possible to be. He watched his side go down to ten men yet again after a terrible elbowing incident and then not only tried to defend his player but tried to accuse the Burnley players.
The great news is that Hell-Wood is not even looking to sack this incompetent but has given him a contract extension. Having lost it on the pitch he then made some ridiculous comments after the match, none dafter than his impression that his lot had played well.
Palmer said, "Daly never used his elbow and shouldn't have been sent off. A striker has to lead with the elbow and if their players didn't make such a song and dance about it, he might not have shown the red card. He didn't even lead with his arm and he went up early. I didn't even think it was a booking."
Then in a twisted attack on the Clarets he added, "There were four or five bad tackles on Ali Gibb that he could have done more about."

And then on his side's performance, "I had to play the young lads and on the first goal, if I'd have been in the centre, we could have cleared it but Burnley are in the top six and we played three young lads in the middle, who did well. I was happy with the first half possession that we had and I was pleased with the performance. We didn't have much luck elsewhere and Luke Beckett hit a post late on."
It might be worth pointing our at this point that he was in the centre for the first goal and was the Stockport player who didn't do his job as the ball got through to Taylor.
Thankfully both managers weren't behaving as if they were barking mad after the game and Stan said,
"It wasn't a particularly pretty game, it was windy and the conditions were difficult, but it was a valuable three points. All credit to them, they are playing for pride now and we were expected to win the game and you can't do more than that, which we did.

"It was a good, hard-working performance and we knew we would get the break and we did. It only takes a second to score a goal and we could have sealed it earlier than we did.

On team selection Stan added,

"It's a squad game, not a rotational system and I picked a team to win the game, which happened. Mark McGregor did well and he is a good player who can play anywhere across the back four and a valuable squad member."

And on the second goal and on the substitutions,
"Coxy used to play as an outside right at Crystal Palace, so maybe that was a throw back to those days!"

"Steve Davis had a sore calf, so we had to get him off. Granty was tired, so we brought him off, whilst Brad Maylett could cause them some problems down the right.

"Overall, we have eight games left, with five at home to teams with top half ambitions. We'll be there or thereabouts and the players have done well and bounced back again. I expect that will happen again as well before the season is out."
Taylor gives Burnley cutting edge
Pete Oliver (Sunday Times)
FORMER England international Ian Wright dropped in to train with his erstwhile Burnley teammates ahead of their trip to Edgeley Park, and although his presence couldn't inspire an avalanche of goals, it did at least lead to a desperately needed victory over Second Division-bound Stockport.
Wright was the catalyst for Burnley's successful promotion to Division One two years ago. Although an equally audacious attempt by manager Stan Ternent to sign Everton midfielder Paul Gascoigne earlier in the week failed, at least he saw his side get back to winning ways, for only the third time since the turn of the year, to stay firmly in the playoff frame.
Second-half goals from Gareth Taylor, his 15th of the season, and Ian Cox, of which Wright would have been proud, were enough to sentence sorry Stockport to their sixth defeat in seven games.
To make matters worse, County had a player dismissed for the fourth time in five games when 19-year-old striker Jon Daly was red-carded after 65 minutes for elbowing Mitchell Thomas, whose return to the defence coincided with Burnley's first clean sheet in 12 games.
Taylor tapped home in the 51st minute after Andy Dibble had saved his initial effort, as Burnley finally made their superiority count.
Cox rounded things off in style with a fine solo effort eight minutes from time, when he moved forward from the back, jinked along the edge of the box and lashed a shot into the bottom corner from 22 yards.
"He used to play as a centre-forward and a right-winger as a youngster at Crystal Palace, so perhaps it was a throwback to those days," said Ternent, who was naturally pleased to keep some daylight between his side and the chasing pack.
"It wasn't a pretty game. It was difficult with the wind and the conditions, but I think we deserved it, and it's a valuable three points.
"Stockport look as though they might go down, but they played for pride. It's difficult when you come to places like this, but we won, and you can't do more than that. With eight games to go, it's in our own hands."
There wasn't much to choose between the sides in a dismal first half as Stockport just about managed to close the gulf in status with a committed display.
But Burnley always suggested that they had more about them, and once they went in front, a 10th away win of the season was never in doubt.
Former Stockport striker Ian Moore was revitalised by the part he played in flicking the ball on for Taylor to score, and two minutes later he should have made it 2-0 when slicing wide after Dibble had parried Paul Weller's shot.
Moore then ran half the length of the field, only to lift his shot over the top, before County's comeback hopes were diminished further when Daly collected Stockport's ninth red card of the season. Manager Carlton Palmer insisted: "He jumped for the ball and no way elbowed the lad. The video shows that quite clearly."
Stockport hit the post through Luke Beckett in the final minute, and despite the defeat, Palmer expressed himself pleased with the County contribution.
He revealed that he has agreed a fee for two players from Premiership clubs. Their arrival won't be enough to keep Stockport up, but might give them a chance of avoiding the four more defeats that would see them equal the record for a season set in this division by Tranmere 63 years ago.
Burnley build on Palmer lapse

By Derick Allsop at Edgeley Park (Sunday Telegraph)
STOCKPORT COUNTY defied Burnley for 50 minutes, only to self-destruct and hasten their drop to the Second Division.
Carlton Palmer, the Stockport player-manager, had been likened to Franz Beckenbauer after his team's rare victory against Bradford in midweek and he required all his composure and influence against a Burnley side intent on reaching the play-offs.
It was a back-handed compliment to Palmer, delivered by the Bradford manager, Nicky Law, to emphasise the incompetence of his own side. Burnley are a cut above Bradford these days yet still found County's version of The Kaiser a formidable obstacle.
Gareth Taylor ought to have given Burnley an early lead and their prodigious forward, Ian Moore, provided glimpses of his obvious talent. However, they resorted too often to hopeful crosses into the area and more often than not Palmer headed clear.
Stockport's success against Bradford - their first in almost four months - earned them a little self-respect. Twice they retaliated in the first half, and twice they might have gone ahead.
Burnley, without the suspended Dean West, gave a League debut to Mark McGregor as they pressed their case for a place in the Premiership.
Stockport fended off Burnley's early pressure and broke with determination and ingenuity. Mark Beresford was thankful that Jon Daly's shot-cum-cross buried itself into his midriff.
Burnley should have gone ahead from McGregor's 14th-minute centre, but Taylor's glancing header drifted wide.
Burnley were fortunate not to pay a heavier price for that miss. Luke Beckett and then Daly were denied, none too convincingly, in a frantic assault on their area.
Stockport conceded a needless free kick and were relieved when Steve Davis, trying to catch them unawares, lifted the ball over the bar. Davis had another effort, following a corner, this time hammering the ball into the arms of Andy Dibble.
Palmer, so dominant in the first period, had a breakdown in communications with Dibble after 50 minutes and the lapse allowed Taylor to put Burnley ahead.
Stockport's plight was compounded by the dismissal of Daly, for striking Mitchell Thomas, before Ian Cox drove in Burnley's second, from 25 yards, with minutes left.