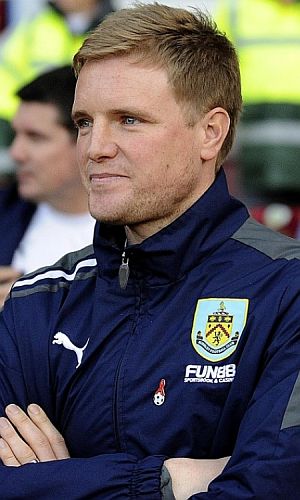 It was Reading and their manager Brian McDermott who were celebrating at the end, due to an 11th minute goal from Jason Roberts but he was quick to have words for the Clarets at the final whistle.
"They're a good side Burnley, so that's a really big win that one," he said. "They're as good a side as I've seen come to Madejski this season but we've got a team who knows how to win games.

"That's three games in a week and we've got three wins, nine points, three clean sheets. We have to be pleased with that.

"Tonight, we had chances, they had chances. And I think the team earned some good fortune with the effort they put in tonight, from back to front. And we got the goal - it was a fabulous finish from Jason Roberts."

McDermott added: "He kept his eye on it, watched it right onto his left foot, and looped it over the goalkeeper. "I've been waiting a long time to get Jason Roberts. I remember seeing his debut at 17 years of age and he's now...well he's older than 17!

"The way he brings people into the game, everything about him, the younger forwards at our club now look at him and see what he does both on and off the pitch. He's a really good role model for everybody around the club, and he's got three goals in four games so that speaks for itself.

"He's got so much to offer, you can see what he brings to the table. He's a really, really good person and a very good footballer. We're so pleased to have him here."

He concluded: "That's our fourth clean sheet on the spin and all credit to every single one of the players in there. "It was really important to win tonight, because we didn't want to be going into an eight-day wait for the next game with a poor result.

"Now, after that performance, everyone will be feeling good about themselves. We'll train well next week, and be ready for a trip to Middlesbrough."
For the second time in six days, Burnley travelled home with nothing from an away game against one of the top teams. This time Eddie Howe felt we deserved to take something from it.
"It's a tough one for us to take because I was very pleased with the performance," he said. "I thought we played very well, created enough chances, had Reading on the back foot and passed the ball very well.
"It was almost the complete performance, other than the fact we didn't get the goal our play deserved.
"We did really well on Tuesday against Barnsley in terms of retaining the ball, but I thought tonight it was progression from that. It was just in and around the box that perhaps at times where our quality wasn't our usual standard, but we hit the woodwork twice, their keeper has made saves and they slowed the game down well in the second half."
He added: "I don't think Reading had any great chances of their own making in the game. They are a talented side who are difficult to play against, but we passed the ball well and took the game to them and on another day I think we end up scoring two or three goals.
"We've lost the game, but it's a moral victory in terms of performance and the bigger picture is that we know we are still improving as a team. We've proved that here again tonight and that really pleases me."
Looking forward to the remainder of the season, he added: "We have enough games left and we are playing well enough. I have players coming back from injury too and it was great to see Martin Paterson back tonight, so we have no need to be dejected.
"We will go again and we live to fight another day. The really positive thing is you can see we are playing well against all the top sides.
"Tonight is one that has gone against us, but long term, if we continue to perform like that, we have a great chance. We will have the odd dip, but we are progressing well as a team and the lads are definitely starting to believe in themselves."