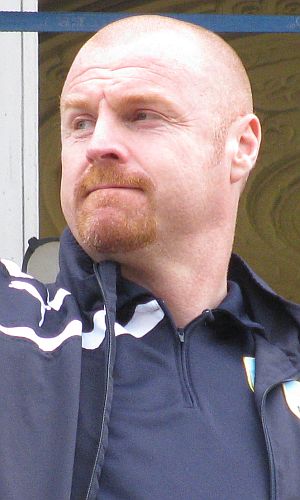 Pellegrini saw George Boyd score the only goal of the game just past the hour to condemn City to their first Turf Moor defeat since 1974, a defeat which will make it far more difficult for them to retain the Premier League title.
"We must continue to fight but the chances of winning the title are far as things stand," Pellegrini said. "There is still a chance, but is more difficult after this result. We needed to create more chances than we did and find more space in and around their defence.
"This was a very important game for us, as they all are from now until the end of the season, so we are of course very disappointed."
Asked about the possibility of them having a penalty when Pablo Zabaleta went down in the box under challenge from Ben Mee, Pellegrini added: "Maybe, but the referee decides these moments and I don't think that was the most important thing in this game.
"The issue for us at present is that we are not winning the games that we normally do, especially against teams we are expected to beat and that is because we are not scoring goals.
"I'm sure all our players are giving all they can at this moment but we have to keep trusting in what we are trying to do and believe our performances will return to our normal levels. Now our focus must turn to Wednesday and our game against Barcelona."
Dyche explained his own feelings after the game. "It was a fantastic night for many reasons," he said. "To be honest I was calm as a player and I have never been one for running along the line and sliding on my knees until the job is done, but trust me inside there is someone jumping around.
"First of all I think the players earned the right with a very good performance. The margins were tight but I think we edged it overall in a close game.
"They are a fantastic team, but for us to give a performance like that is a reward for everyone connected with the club. I think the rewards were there for the team, individuals, the staff, myself and also the town and its fans.
"I think they know that they have a team, a staff and a manager who give them everything and I can only imagine that, as a fan, they appreciate that.
"As a young kid the minimum I wanted was a team that give their all and I think they have that, so when a win like that comes, it's a reward for all. What it also does is remind the players that we are competing at this level and we can do."
He added: "There was much to admire and there was patience to our play. At the end we got a bit desperate and we are still learning that you have to keep possession at times.
"You have to keep the ball and carry their players all the way back to their end. That's a detail we have to continue to work on, but there were so many good things and some of the individual performances were outstanding.
"You have to remember, that is a high class group that we have played and overall I felt we did enough to win."
The goal from Boyd lifted Turf Moor and the manager said of it: "It's a fantastic strike by Boydy. he hits it so cleanly and we know that he has that in his locker. Full credit to him because he has literally run miles for the cause so fare and I'm sure that will continue."
It's the first win for nine weeks, since we beat QPR 2-1 at Turf Moor and he said: "We have never been broken. We have been dented a few times and had a few knocks and clips across the jaw, but we stay on our feet and get ready to go again.
"That will be needed again. This doesn't define our season. It might do, but there is no guarantee, so we have to be ready next week and beyond, and we will.
"The players have a way of working and the demand to give everything is absolutely there, so it bodes well for the future."