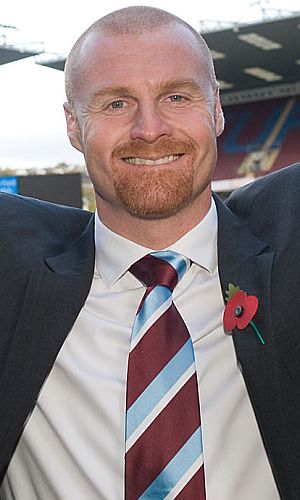 David Flitcroft is in temporary charge of Barnsley and he was a happy man at seeing them through to a tie when, in all likeliness, someone else will be in charge.
"We worked hard and fought well," he said. "Burnley are a good team who put you under pressure and we stood up to them. The second half we completely dominated, but after we scored the goal they pushed us. We need a bit of calmness and that's only what's missing.
"There's a lot to look forward to at this football club, you look at the energy and commitment of the youngsters. John Stones, the world is this boy's oyster and people are taking notice of him."
He also had words for goalscorer Danny Rose. "He's somebody who will score goals for this club and today's he's got a really important one. Once he grows into his body he will be some player for this football club."
Flitcroft also had words for Burnley and former Barnsley captain Jason Shackell. Without giving any explanation, he said: "I was disappointed in Jason Shackell, and older professional like that doing that to a 19-year-old. I never did that as a player, I'd usually got for the biggest player on the pitch, it was uncalled for."
Sean Dyche was again fuming at yet another refereeing decision that had gone against us, this time the controversial dismissal of Brian Stock some nine minutes before half time.
Dyche said: "I am disappointed in the outcome today because of a referee's decision that is totally out of our hands. We can affect a game and try to beat the opposition, but it's very difficult when it goes beyond the opposition.
"The first booking is not a booking. Harewood hits our player in the back of the head and doesn't go off the pitch, which I am amazed at. Brian is left with an unfortunate booking and if there was a push it is not even him because I've seen it again.
"I don't really see what Brian's part is and it certainly looks like mistaken identity. I've watched what happened in the wall five times and it's incredible any of our players were booked in that incident.
"That changes the whole feel of the game because we were in command of the game at that stage and never looked in trouble. We never looked in trouble with 10 men, let alone 11, but decisions go out of our hands and there's nothing you can do."
Despite that, Dyche has said there will be no appeal, not even for mistaken identity. "I don't even feel there's any point nowadays. We did that with Kieran Trippier and got nothing, so there's really no point.
"It's the fourth big decision that has gone against us now and we feel there are no grounds for that. Referees have a tough job, but I am just really disappointed that we are struggling to get a big decision to go our way.
Looking at the team's performance, he added: "I thought the shape and the basic requirements today were excellent. The resilience of the team, which has changed since we have been here was shown again in the second half and we never looked in trouble frankly.
"It's one of those things at the end with the goal that decides it, but the game hinged on what happened before that and it's a very poor sending off."
Finally he spoke about new signing Dane Richards who got just over twenty minutes as a substitute. "The plan was to contain Barnsley and be ready to counter when necessary, and Dane added that to our game when he came on.
"It's very difficult for the boy because he has just got into the country and we felt it was right to just throw him in and give him that first little look at it. It's a great chance for him to get involved and we're delighted with him."
Brian Stock himself took up the story of the first yellow card that ultimately led to his dismissal and first he had word for one of the Barnsley players. "Fair play to players like Marlon Harewood, who was trying to tell the referee he was booking the wrong person.
"The referee didn't give me a reason. He just said he had seen it. He never actually said I had done anything, which was a bit confusing. I got pushed in the back and hit on the back of the head as well and to my surprise I got booked for doing that.
"Maybe I should have done better in not getting booked for the second one. It's not often I get sent off and I have never been sent off for two yellow cards so cheaply. I can't really complain about the second yellow but they are two really soft yellow cards and I am gutted to have been sent off and to be out of the Cup as well."