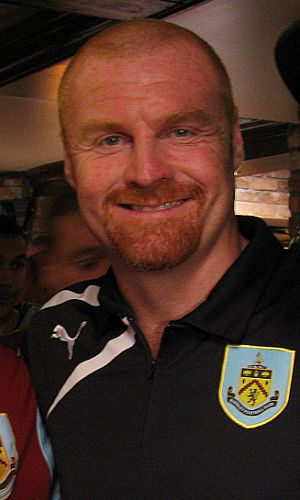 Derby are still to win at home in the league this season but they've recorded two away wins and this, on paper, looked a tough one. But we were big winners and neither manager was going to quibble about this deserved win.
Home boss Nigel Clough, who is still to beat Burnley in what is now eight attempts since he took over at Pride Park in January 2009, said after the game: "It was a disappointing afternoon to say the least and it was far more than frustrating.
"We have looked very good defensively in recent weeks, keeping two clean sheets in a row going into this one, but that wasn't the case today. The goals that we gave away were so unlike us and in their own ways they were very poor.
"The ones we conceded in the first half gave us a mountain to climb and even when we had a chance to get back into the game with a penalty, it wasn't our day.
"It was uncharacteristic of us at both ends of the field; we weren't good enough at the back and we didn't take any of the chances we created. The bottom line though is that we can't expect to win games if we give goals away like we did today."
He added: ""It was one of those days where everything that could go wrong did go wrong, with the exception of picking up any injuries or a sending off."
Speaking about the penalty, he added: "It was a key moment in the game and if we had scored that, who knows how the game would have turned out. We probably didn't deserve anything out of the game today, but if that had gone in maybe the pendulum would have swung in our favour.
"It was a turning point, most games have them, and Johnny (Russell) was unfortunate because he struck the ball very well. The penalty situation is bizarre (they have missed five out of the last six); we're not having any luck on that front."
Sean Dyche was anything but disappointed after seeing Burnley get their biggest win since he became manager at the end of October last year, and he had big praise for his strike pair of Danny Ings and Sam Vokes who were both again on the scoresheet.
He said: "We know Danny has good, fast feel and he's a confident player at the moment. We have given him guidance, but it's all about the player taking control of himself and how he goes about it.
"He has been nothing short of terrific since the first day of pre-season, but I must also mention Sam who was absolutely awesome today.
"If he keeps finding that believe in himself, because that's the only thing I've found missing in him, I think he's an absolute top class player at this level and could go on to do even better.
"He is coming out of himself and believing in himself once more. He and Danny are fit and lean and I am enjoying their performances, but they are backed by a team that is working very hard for each other and putting in performances as a unit."
Knowing that this was a fourth win in four at Pride Park, he added: "A lot is made of runs against other teams but I'm not a big believer in that. This wasn't about the past; it was about the way we went about our business and we did that in the correct fashion.
"This is a tough place to come. Last year Derby had the third best home record in the division. I know Nigel likes to get his team playing and we had to deal with that and I thought we did it extremely well and some of our goals were excellent.
"If I was greedy we could have nicked another one, but I must mention that the officials today were, shall I say, interesting. In the last two weeks I have seen two unreal decisions, the like of which I have never seen in my career, which is a long one.
"I have to be careful what I say, but it was an incredible moment which could have changed the feel of the game. Having said that, after all the disappointment , it was a fine save from Tom Heaton and to come here, score three goals and keep a clean sheet is fantastic."
The manager also spoke about his hopes for strengthening the squad before the Monday transfer deadline. "Work has been going on a long time, but if you haven't got the finance you have to keep nibbling away at things and we have been doing that," he said.
"If we had the finance to make things happen we would, but I haven't got the ability to do that, so we have to keep working as hard at different ways of structuring deals to try and get them over the line for the football club.
"We have had four or five we thought were on the cusp and for whatever reason they have just got away from us. That's the reality of the club at the moment, but I don't use that as an excuse.
"We have some really good players here and we do need support at some point, but we are still delivering performances in the right fashion. I believe in the group, but we will keep the channels of communication open and hopefully get something over the line."