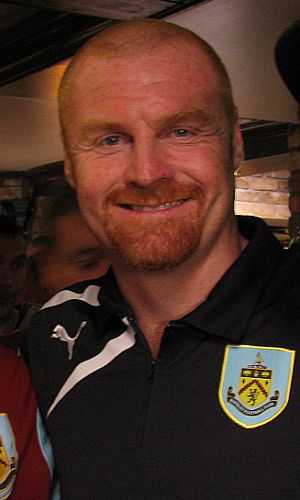 Bolton came from behind to earn their point and Freedman said after the game: "We deserved a point first of all, our determination and grit showed and that is what I ask of this football team.
"We were well supported and we have got a responsibility to the fans and we showed that with our determination to come back from a goal down.
"It was a frantic first half, there was not a lot in the game and our approach play for 25 minutes was excellent. We could have possibly scored a couple of goals and in the second half we got what we deserved, and that wasn't a lot.
"All in all it was a well deserved point, a great local derby and if there was going to be a team that was going to win it, it was going to be us."
Dyche saw his team overcome the loss of Charlie Austin and take the lead before having to settle for a point. "I think we could have nicked it," he said. "I think Dougie will be happier with the point and we will be happier with the performance overall.
"You can't guarantee the outcome, but you can put in a performance that can give you that outcome and I think we were very close to doing that today.
"I thought there were large parts of the game when we looked really good. We were solid, had a good shape and energy about us, but also created some really good chances. I was really pleased overall. I would just rather have had the win."
Explaining the late substitution, he added: "They went very physical near the end and by the end they were a very big team, which is why David Edgar came on. They were a threat from set pieces, but from general play I didn't feel they were going to open us up.
"The longer the players work with us, the more signs they are showing. The challenge is to be consistent and so far we have been; both on the training ground and when it mattered today."
Needless to say there was a discussion about Austin and the manager said: "You can't over think it. At the end of the day it is what it is. It is well documented that the club has to make ends meet and has to have a future on a level financial playing field. It is hard for this club to manage its finances wisely and make things balance.
"From a manager's point of view, you don't want to see good players go out of your building. I obviously thought because of the medical situation Charlie would still be with us and we were planning that way, but someone has gone for him and it happens in football.
"The hardship now is that some of the players we were looking at have gone elsewhere. We couldn't move before we knew what was happening with Charlie and that had been a frustration. It has changed the angle slightly on it, so it's a tougher ask now, but we will shop as wisely as we can and keep our lines of communication with many clubs open."