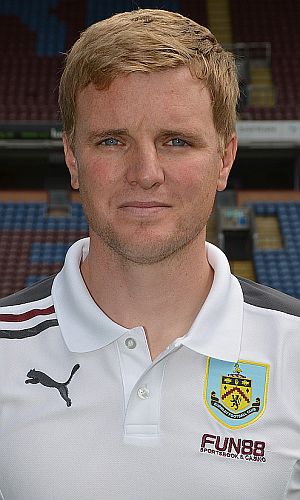 Lambert, who was so close to becoming Burnley manager just a year ago, fielded a strong side that got off to a good start with two early goals. "From start to finish I thought we were very, very good, and I'm delighted to be through," he said after the game.
"Burnley are a good side, we had two very hard games against them last year, and this one was no different. I thought we did very well and dominated the game.
"I think what the Premier League does is make you step up to the plate. The tempo of the game is so quick, and I think that showed. We were very sharp and I thought the lads were excellent.
"We were great at certain times in the game. I thought the tempo was good, the movement was great and I'm delighted with everybody."
He added: "I think the FA Cup is world renowned. I always say that if you're in something then you should do your best to win it, but I also know the Barclays Premier League is what we have to try and stay in and that's what we'll try to do.
"In the next round a home tie is all you can ask for, and whoever you get is going to be really hard, but we're through to the next round which was the main objective."
Norwich haven't had a clean sheet this season and Jay Rodriguez denied them that, although Lambert was pleased with his two central defenders Daniel Ayala and Zak Whitbread.
Lambert said: "I think Daniel and Zak have been excellent. Daniel is only 21 years of age, I think he's going to have a massive career in the game, and the two of them are playing very well at the minute. They've been injured but when they have been playing they've been great.
"Zak came in last January having not played much too and was excellent for us. Daniel came in from not playing many games for Liverpool, and then got injured against MK Dons, but once he was fit we gave him a chance and I think his performances have been excellent."
Burnley manager Howe admitted: "It was a difficult afternoon for us. Norwich are a very good side, but for over an hour we were well in the game at 2-1.
"I think you could see we were a little disjointed today. We missed Kieran Trippier badly, which we probably thought we might. That's no disrespect to anyone who came in, but we didn't really have any width in our play and we didn't look great defensively today.
"We looked shaky against a good side with good attacking options. We didn't deal with that particularly well, but it's a good test against a Premier League club.
"They gave us respect by not making too many changes and in the second half we never really got going and it ended up a poor end to the game as we were seeing out time waiting for the whistle."
He concluded: "We'll take the positives. There were some good individual performances and Ben Mee was excellent and the front three all put a shift in, especially being without the ball for long periods, but we have to look at Norwich as a role model and a club we want to emulate.
"The success they have had, full credit to their manager and players and theirs is a path we have to try to emulate. Their team spirit really stands out as well, so there is a lot of things for us to look at as a route we want to take.
"It's disappointing being out of the cup, but we have to view this game as a one off and it's important we look at the bigger picture. It doesn't affect our league form and we knew this was going to be a tough spell with three away games and now we look to Middlesbrough and hopefully having a few lads back."