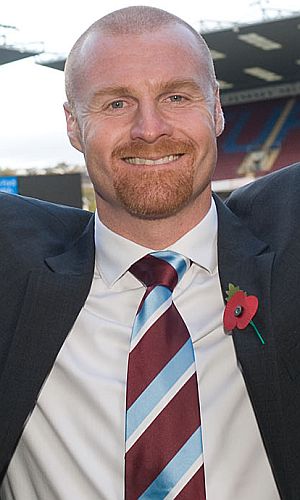 Clark's team, for the second time this season, scored an important 90th minute goal against us, this time to win the game and he said: "I thought the win had gone when Ziggy (Nikola Zigic) hit the post. I thought a draw was on the cards but the lads kept going.
"When they went down to ten men, we didn't adapt to the situation quickly enough because we went with two strikers then, and I changed our formation. They looked as if they got a bit of momentum and seemed a bit inspired by the sending off, but after about five or six minutes our lads done it right. They passed the ball and moved it quickly.
"When you're a man up it's not necessary to take two many touches. You play one and two touch. You pass the ball early and crisply. You get it out wide to people who are playing well; like Chris Burke and Nathan Redmond when he came on. They were causing problems and that's what we done. I think we controlled the tempo of the game really well at the end of the game."
He added: "I think if you look back at the whole goal, it was a deliberate little clipped cross from Wade (Elliott), who I thought was outstanding on his return back here, and there was good awareness from Ziggy. I was right behind Marlon when he hit it and he's hit it as sweet as a nut. It's flown in. It's worthy to win any game really."
He said: "Once again we don't have to try and beat the 11 players in front of us, we have to overcome other things and that's unacceptable in my opinion.
Dyche was fuming over the decision by referee Darren Drysdale to send off Dean Marney. "That is my 16th game and I've had three sending-offs, one for a deliberate hand ball that wasn't, one for mistaken identity and one for a tackle that was just a great tackle," he fumed.
"I don't know where the line is drawn any more. It's a hard tackle, but low on the floor and taking the ball cleanly. I can't even fathom how that the referee can later tell me that was 'excessive force'. Do we now have to tackle softly?
"I find it incredible and I'll be talking to the referee's assessors about that because if you take tackling out of the game you will have a strange game left. "To be fair, Lee Clark actually came over to me and said he thought it was his player being sent off. That's how strange it was!"
On the performance from the Clarets, Dyche added: "The lads, I thought, were slightly below par in the first half, albeit not deserving of being one goal down. At half time we asked them to up things 10 per cent and play through the units quicker and we did that and did everything to win a football match.
"In the second half we were tremendous with 10 men, not only the effort but with our football. We opened them up with 10 men and your man Butland has produced again with two or three great saves.
"I'm proud of the way the players performed and I'm just trying to work out what we need to do to get parity. It's important because we are not just earning wins, we are having to over-earn them.
"We have worked so hard to get within touching distance and to have that type of performance from the officials is very hard to take."