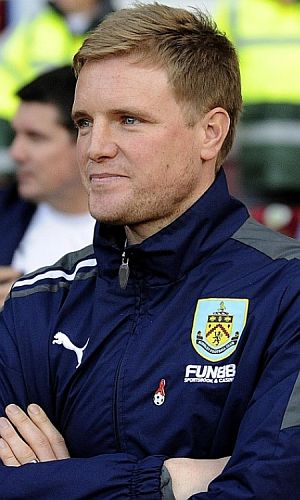 Simon Grayson was a happy man after Huddersfield's first win of the season. "I am delighted with the victory," he said. "We scored a couple of good goals and kept a clean sheet. I thought right from the first whistle we were at it today.
"We closed and pressurised Burnley all over the pitch and used the ball with a purpose when we had it. We created some good opportunities and when we were under pressure in the game we defended professionally. There is undoubted quality within our squad, but I thought our work ethic today was first class.
"We aren't going to get carried away because we are only three games in; but we have come up against three established teams and done well. The players showed a positive attitude and the supporters back us. We never let them have two minutes on the ball and that is what you have to do against the top teams."
He added: "Some people may believe that Joel's effort wasn't over the line, but that doesn't worry me. We worked their 'keeper well today and also hit the bar. The link up play between James Vaughan and Jordan Rhodes was excellent at times, but it was an all-round team effort that contributed to the goals today.
"I thought 'Lynchy' was exceptional and James Vaughan, who came into the team at the expense of Lee Novak, offered us something different with his pace. I like Lee Novak and it was a tough decision not to play him but I though Vaughan complemented us very well – we have got good options all over the pitch."
Eddie Howe could not have been happy with his team's performance today. He said: "For the majority of the game I thought we controlled possession, but in the final third we weren't ourselves and in both boxes I thought we were a bit of a disappointment.
"We had a number of set plays ourselves and didn't cause too much threat, so the lack of creativity and spark today in the final third cost us.
"Set plays were their biggest threat and we couldn't deal with them. We didn't stick enough heads on the ball in our box and you could say we were outmuscled today.From a set-play perspective we have some big lads and headers of the ball, but on the day we didn't defend them well enough.
"In the past two away games we've lost them both when we could have definitely picked up points in both. The reality is we haven't and we're disappointed in that, but I don't think we have been outplayed or outclassed. It's just a case of being a little bit better than we are and we'll endeavour to do that."
Speaking about the opening goal, he added: "I would need to see the first goal again because Joseph was on the line and then at the other end Charlie got a nick to David Edgar's shot and I'd need to see that again because they are big decisions."
Finally, he revealed that Martin Paterson is injured and that the Steven Fletcher money will not boost his transfer kitty. He said: Martin has had a scan on a grade one hamstring tear. It's a really tiny tear and we are desperate to have him back, so we expect to have him back very soon. Whether he makes the Brighton game though we'll have to see.
"I am still hoping to get bodies in, but I am very supportive of the board and what they are trying to do and it's a case of finances.The Steven Fletcher money was good news, but I think that may already have been accounted for, so we'll see what the week brings."