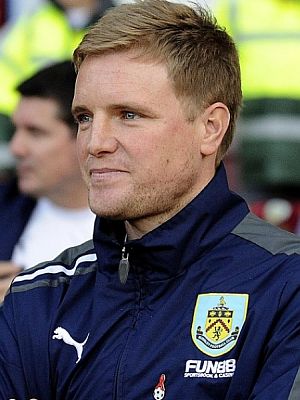 Boro boss Tony Mowbray, who has been in the job at Middlesbrough for fifteen months, has seen his side reach the top two but is aware it is not an easy game for them tomorrow.
Ahead of the game he admitted: "Burnley is a very difficult one for us. They have won six of the last eight league games and they are on a real good run.
"They've had a strange season really where they've gone through patches where they have won consecutive games and then they've lost five or six on the bounce and then they've turned round and won six on the bounce. They seem to be one of those teams that are either very good or really struggle to get a result.
"At the moment, before last week's defeat to Norwich in the FA Cup, they've been on a good run so it's a difficult game for us and one we are very wary of.
"They have a better away record than they have at home, similar to ourselves, so they will be well set up, a good counter attack team, a lot of pace in the team, a lot of physicality, Rodriguez brings that to them up front so a difficult game made more difficult by the fact that Nicky Bailey and Barry Robson are unavailable for this match as are one or two others but we will give it our best shot and the fans who come along will see a team fully committed and trying to get the points.
"We are trying to get the double over them this weekend which will be a great motivation to them to make sure it doesn't happen."
Burnley faced three away games following the 1-0 New Year's Eve win against Hull City. "We saw Leeds, Norwich and Middlesbrough away as tough games," said Clarets' boss Eddie Howe.
"We were desperately unlucky not to get anything at Leeds, which was a really cruel game for us. For the Norwich game we were without our strongest team and a little bit unbalanced. I think that was difficult against a Premier League club which played a really strong side and now we go to Middlesbrough which will be difficult again.
"They are a really good side who I thought were really impressive against us earlier in the season. It was a tough afternoon for us then but hopefully we can show Middlesbrough we have really improved and kicked on from then.
"I think it was one of our most disappointing displays of the season. We conceded a poor early goal which put us on the back foot. Middlesbrough played on the counter-attack, got bodies behind the ball and we weren't good enough to break them down.
"They have got a couple of injuries and I think one suspension so may have to re-jig their side about but they have got good, experienced players who have played at the top level. They are very good defensively and don't concede many goals.
"But if we play anything like we have done of late, including the Leeds game where we gave a really good rearguard performance with ten men, then I am confident we can get a positive result.
"I am looking back at our league form over the last six or seven games and taking a lot of confidence from that. We are definitely not going into the game in a negative frame of mind. We are very positive and I don't think we have anything to fear. The league is very, very tight - in both directions - and it's important we try and get a result."