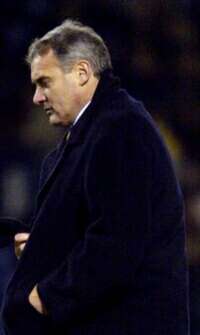 Wolves boss David Jones looking less than happy at the final whistle
Neither of the two managers, good friends David Jones and Stan Ternent, could disagree with that although Jones was more concerned with his team's first half performance that he described as inept. He did though strangely think that his side had played well enough during the second half.
Jones said, "It's an old cliché but it was definitely a game of two halves for us. We didn't do anything in the first half, we just didn't compete. We sat back and didn't pressurise.
"We were a nonentity and for their centre forward to have a free header like that for the first goal was very disappointing. In the second half though we had them on the back foot but we were chasing a two goal deficit.
"If we had shown the commitment and desire in the first half that we did in the second we would probably have won the game but we lost because our first half performance was inept.
"The results went for us again today but how many more chances do we want to play catch up? It's a good think we have another match on Saturday, it gives the players a chance to put things right."
Stan was happy and so he should have been as the Clarets came back from two bad defeats to take maximum points from their bogy team. After the game he said,
"I thought we played extremely well today especially in the first half. We battled hard but in the second half we did have to withstand some pressure because Wolves are a strong and very experienced side. But I don't think they had too many shots on our goal.
"All in all it was a well deserved victory and a nice three points for us."
He was delighted with the quality of the first goal, "It was a fantastic goal. Gareth started it off and Robbie showed a bit of magic down the left before Gareth finished it off beautifully", said Stan. "And the second might have taken a deflection but it finished up in the right place."