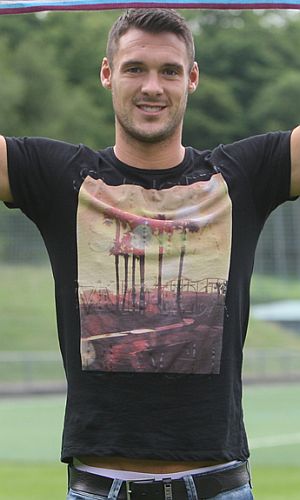 New club captain Jason Shackell
On a warm and dry afternoon, something we haven't witnessed very often this summer, Howe was pleased with his side's first run out in which he gave 22 players half a game each.
"I felt we had a good feel about us today," he said after the win. "The lads showed a good determination and wanted to win the game and do things right, so I was really pleased.
"What we are looking for is attitude first and foremost and making sure we are focused from the first game, regardless of who we are playing against. The lads looked really bright, we passed and moved the ball really well and made chances in both halves.
"It's particularly good to see the strikers looking bright too. Martin (Paterson) was excellent and could have had two or three goals, Danny (Ings) scored with virtually his first touch and looked really lively throughout and Charlie (Austin) scored two, which is what he does."
All four of the new signings featured, Luke O'Neill, Jason Shackell and Joseph Mills in the first half and George Porter in the second half.
Howe added: "Jason played like he has trained and looked very composed, Luke did very well in his first outing and Joseph was technically very good too, as was George Porter in the second half.
"All in all I'm delighted. It's a good start and now we look forward to carrying that on at Bury on Tuesday."
It hadn't gone unnoticed that Shackell led the side out ahead of the game despite the fact that McCann was also on the pitch, and Howe confirmed after the game: "Jason will be captain for next year.
"It's no disrespect or criticism of Chris McCann at all. He is a leader in his own right and he was an excellent captain for us last year. He is someone we hold in the highest regard, both as a player and a person. We just felt with Jason that he is a natural leader and I think that does take a little of the pressure off Chris.
"He has had two years out through injury and I thrust him back in to the captaincy and that, along with playing every week, was a big ask for him. I thought he held the position really well last year, but this hopefully takes a little of the burden off Chris and allows him to be the player we know he is.
"We also wanted another leader and voice in the back four. I think it was one of our Achilles heels last season that we didn't have enough voices on the pitch. It is Jason's natural role and I think he has settled into it really well. He has everyone's respect here and I think we saw immediately what a good player he is."