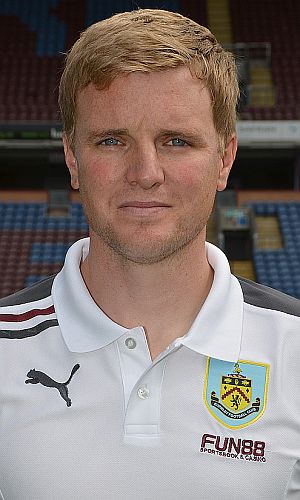 Three years ago it was Owen Coyle who was about to take Burnley into the play offs and the Premier League, this year it is Derek McInnes. He was said to be a candidate for the Burnley job last season and this season took over from Keith Millen at Ashton Gate.
He had a good start, saw them falter, and has now seen them to safety with last week's win against Barnsley leaving him looking forward to going out on a high and end the season with a run of eight unbeaten games.
He said yesterday before leaving Bristol: "The players can be really pleased with their efforts if we can finish the job undefeated, but we'd like to go up there and win the game.
"I always felt as a player the last game always stuck with you going into the close season. If you can win the game, it sends the supporters home happy and gives them a lot of optimism. We want to try and finish the season on a high. It's not vital that we do that but it would be nice."
He's also considering using the game to start his planning for next season and added: "It is an opportunity to look at one or two things that I wouldn't ordinarily have. We've had a good week in terms of being a bit more relaxed - it could have been a lot more stressful!
"They are a team who can be quite expansive at times and always seem to create chances, so we need to make sure we defend well and hopefully we can put in a performance that gives us a chance to win the game.
"They'll be fired up to get that home win and send their support home happy, but we have to make sure that's not the case."
Burnley, and Eddie Howe, will be looking for that home win, something that's not come around often enough this season. and the manager would very much like to get that win for chairman Barry Kilby for whom it will be his last game in the chair.
"It has been a pleasure to work under Barry," Howe said. "On behalf of all the players and my staff we wish him the best of health and as he is remaining on the board I am looking forward to continuing our excellent working relationship. It would be a fitting way to finish if he could see us win."
We've won just seven times at home this season in the league and Howe admitted: "That's been one of our biggest disappointments, our home form. The home support hasn't seen many victories. That's been a huge frustration to us and we would love to go out with a win.
"Our overall record of wins hasn't been too bad but our overall record of wins at home has been majorly disappointing. That's something we've said before we need to improve going into next year, because if you want to be successful that has to be the foundation of your success.
"For our supporters who haven't seen many home victories it's important for us to hopefully leave this season in a positive manner. A win would be more than welcome but we want a good performance, first and foremost. I think that's what everybody wants to see and hopefully everyone can leave for the summer in a good feeling."