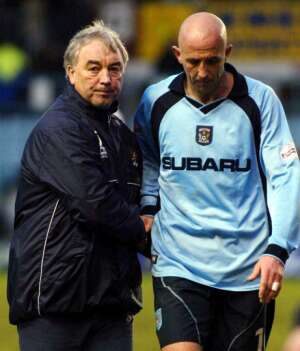 The two managers at the end of the game
Did I say poor? Not quite everyone thought so and Coventry boss Gary McAllister, who spent the entire 90 minutes in the middle of it, was certainly more impressed with his team's performance than many were.
McAllister though was aware that his side does need to show more quality if they are to get back to winning ways.
"We were disappointed to lose,"
said the Coventry player-boss.
"We are in a little bad run and it is just another disappointing result but we have just got to regroup. We can do better. I don't think you can fault the effort and I would give 10 out of 10 for effort but we can do better.

"We don't want to slip away and there's no way we are going to believe that we are. We are not going to allow that to creep in, we know we are capable of putting a run together. I know we are also capable of going a period of games without winning as well.

"We introduced yet another young player today in 18 year-old Andrew Whing and I thought he was excellent especially when we went a goal behind. He just got better. We will look to keep introducing these young players although we do have to maintain a threat in this league.

"I did think we had some good shouts for penalties this afternoon and overall it was a game we should have won".

Thankfully Stan wasn't in cloud cuckoo land with McAllister and summed up the game far more accurately although it has to be said we perhaps weren't quite as impressive as he suggested.
"We did well today. We played well all over the pitch and we won the game with a really good goal from a free kick. It was a lovely ball in from Robbie Blake and Ian Cox has put it away.


"We defended well when we had to and it was a difficult pitch but we certainly shaded it I thought.

"All in all we played extremely well, it was a good team performance and it was difficult to single anyone out although Nik made two or three good saves".

He explained that Marlon was missing because his partner had gone into labour (she subsequently gave birth to a girl, Maya, on Sunday morning and then said he was sending Arthur Gnohere home to France for a short break.
"Arthur needs to regroup because he has got his head up his backside. I have sent him home to rest for a week, he needs to take his family back to France.
"You sometimes get this with foreign players but he is a young lad who has done extremely well for us. I felt this was a good time for him to go and spend time with his wife and his kiddy.
"That way I hope that he will come back nice and refreshed. I have still got great faith in his ability and he is okay with it. He is still a very important part of the squad but I decided that rather than have him sitting at home, he should go across to France. He will be back before the game against Fulham."