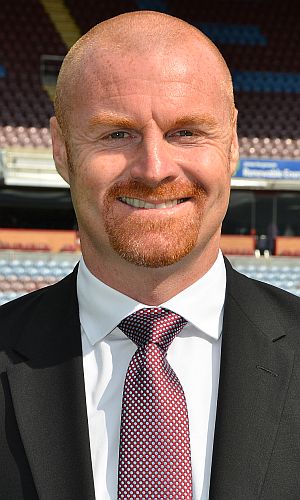 Powell's last visit to Burnley was as manager of Charlton in 2013 and today he said: "Burnley's team has a certain way of playing, which they do very well. They have got some good players that have been together for a long time and we are going to have to go there and compete.
"Burnley has spent good money on Andre Gray and that is the sort of power these teams have. Their aspiration is to go straight back up. It will be tough out there for us."
He added: "It is going to be tough. We know Burnley has good firepower, but it would be most welcome on the road because it is a very tough assignment for us. We will prepare the players the way we always do and look for them to get back on to doing those good things defensively.
"It can be tough and we are a bit threadbare at the moment. Obviously we lost Sean Scannell last week and he will not be ready. Jon Hogg will not be ready either and we have got one or two others who may miss out. We are not entirely sure as it stands.
"Tomorrow I think I am going to have five or even six under-21 lads in the squad and they will be playing against some experienced players. That is why they are here and that is why we give them a squad number, because there are times when they will be called upon.
"Sometimes they just go with it and things happen for them. Flo (Bojaj) was only on the pitch for five minutes against MK Dons and one of them led to a goal. That will not always happen and we have got to understand that.
"You have to give them a bit of trust and a bit of love, a bit of care and motivate them to do as best they can. They will learn from it. Phil Billing had it this year with 45 minutes away to Charlton and he has actually grown in stature, in his mental capacity on training and hopefully that will hold him in good stead for the future."
On this, Sean Dyche's third anniversary day, he had words for the supporters who have been on that journey with him and his team over those three years.
"I thank everyone for their support, especially the fans," he said. "I had a tough first few months here and there was that question mark hanging over me and what I was about. It sometimes takes time for the fans to accept you as being authentic and people wondered could I be a good Burnley manager.
"But I've meant every word and I'd like to think over the three years I've earned the respect of the fans and the staff. It's made for a very productive three years for everyone, I would hope. Certainly if you get the fans to come together with the team, that is a fabulous connection and they know they have a team here who give them everything they can to win a game.
"Beyond everything, that connection and that one-club mentality is such a tough thing to get and I have been so pleased that's happened in my time here.
"We've always had to work and fight above what everyone expects of us, but this club has done that many, many times before. I've learned that from the history of this club and we had to do it again. That connection started to grow, because the players were playing well and new heroes were being born.
"Now, it's night and day from when I came here. The players have moved forward, the club has moved forward and the perception of the club has moved forward, but there's still that solid connection that is thriving and this club is now in fantastic shape in many different ways. "

Year four starts with the visit of Huddersfield and it is business as usual. "We've worked very hard to get where we've got to but the work doesn't stop, there are no guarantees and it doesn't owe you anything because you've been winning games.
"We've got a good focus on that and I say it a lot but we'll be ready. The next game comes round and we make sure they're mentally ready. Physically they're in great shape, everyone knows that, and the framework of the team is good.
"The technical quality comes to the fore whenever it is needed and even in a game where we were quieter last week, Scott Arfield found that technical quality to win it.
"We need to find different ways of winning because every week is different and every week is a big challenge in the Championship."