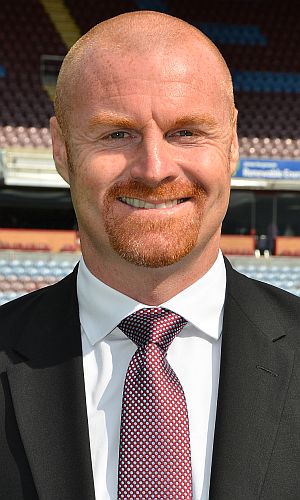 That was his last league visit, although he was the Preston manager two seasons ago for a Capital One Cup 2nd round tie which the Clarets won 2-0 with goals from Kieran Trippier and Danny Ings.
Grayson admits to being fully aware that this a derby game if not THE derby game for either club. He said: "This means a lot to the supporters of both teams, but it was always going to be a tough game for us because they are a team who have just been relegated from the Premier League, have parachute payments, kept their squad together, invested heavily and are desperate to get back to the top table.
"They are a very consistent, hard working team and have individuals who can win them games. I watched them the other week against Brighton and saw what they were about and the majority of their squad is the same one that was with them in the Premier League and they have added to it.
"I am sure Sean will be respectful of us and will have seen what we have done, how we have adapted to this division, the threats that we have got and it is a derby match where we want the boot to be on the other foot from the Blackburn game a fortnight ago."
He added: "We will work on the strengths and weaknesses of the opposition, but we will concentrate on what we need to do to get a result. They have not lost too many matches but we have only lost one in eight.
"The game will have that edge to it, but whatever you spend, that can go out of the window in a derby match. It is about who plays with their head as well as their heart, who takes their chances and hopefully that will be us this weekend.
"Teams that I have taken to Burnley have always experienced a good atmosphere. Turf Moor will be rocking on Saturday and we will have to go there and do a professional job. We can build on the things we have done well. We can do them better still and we also have to focus on their good players as well.
"It has the ingredients of being a good game and hopefully it will be a successful one for us.
"The players have to up their game when they are playing against the top players. It was the same when I was playing. When you came up against the top players you made sure you were on your 'A' game yourself and coming up against a good individual, you have to win your battle and gain confidence from that.
"We have been very solid over the last few weeks, prevented some very good individuals from creating too many chances. The collectiveness of the team has to be good; the units have to stop the supply and stop the individuals."
Of Grayson, Clarets' boss Sean Dyche said: "Simon's done a great job at Preston and I like him. He 's done a good job at all the clubs he's been at actually and been successful at them. He's looking to do that now again. He obviously has the promotion last season and they're looking to take that into the Championship season.
"So again, it's not just a derby. It's another challenging match. It might seem like I say that every week but that's because in the Championship, every match is a challenge."
He added: "They had a mixed start, but they've slowly settled into some kind of pattern and a rhythm and they've had some good results.
"The challenge of the Championship is tougher than League One and not just the financial side of it because there are some powerful clubs in the Championship, but also the technical and tactical side of it.
"Players are playing at a slightly higher level for a reason and that's usually because they're slightly higher quality players. They will know that, but they have a reasonably experienced side.
"It makes for another good game and another important game. That's the case every week but that's because that's how we view each game. You have to earn the right and every game means something."