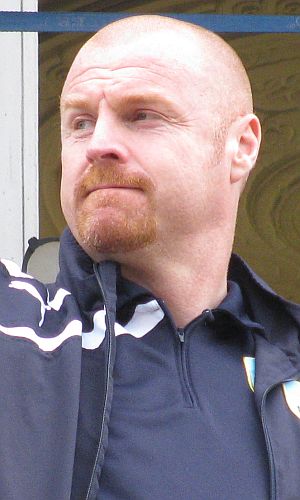 Uwe Rösler was in charge for the first time in a competitive game and said he was proud of his players.
"The players did everyone proud," he said. "Coming on the back of a season where we finished 15th in the Championship and flirted with relegation, we played against a team who had been in the Premier League and more or less had the same squad of players.
"I don't think you could see any difference whatsoever today. In terms of the amount of chances, we should have won the game.
"We've got one of the youngest squads in our division, maybe the youngest. We have three or four players who are still learning the game. If I am going to be realistic and fair as a coach, I cannot expect that every little detail is perfect.
"We are learning the game and we will make mistakes. The way I see it, our performance was spot on against a top team. Unfortunately we lost two points with five minutes to go but the players did themselves very proud."
Sean Dyche saw us react to going a goal behind with only seven minutes remaining and said: "I thought our resilience showed well and that never say die attitude was there again.
"We never go down, this team never goes under. We believe we are never beaten until the final whistle blows and I believe that showed in abundance again today.
"We have built that mentality over two and a half years here and if you looked at the last ten minutes again, in response to the goal, there's no heads going down, they just get on with it.
"I'm very proud of that as a manager, for my team and, of course, for the fans."
Playing at Leeds on opening day is not the easiest of fixtures and he added: "This is a tough place to come, particularly early in the season. There's a new manager and a new feel about the place. The players here are giving that extra three or four per cent, so all things being considered we'll definitely take the point."
Speaking about the equaliser, he said: "It was a fine piece of play and a fine cross from Tendayi but fantastic header from Sam. He is coming back to real fitness and it takes time, people forget that.
"He is getting that real sharpness and you could see that today. He came on with that little zip and energy. It's coming and I'm really pleased with his fitness."
Finally, he explained his reasons for choosing goalkeeper Tom Heaton as the new club captain.
"It was a quite simple decision in the end. I asked Tom if he wanted to be captain and he said yes," Dyche admitted.
"His experience is there and he moved on again last year in the Premier League and his general manner is befitting the role, in the way he conducts himself.
"We have plenty of on field captains though. Michael Duff is out there and when he plays he knows he's a captain in himself, the way he goes about it.
"Michael Keane, I believe, will grow into that in the future and we still want David Jones to play as a captain. It's the old adage; the more captains you have out there the better it is for the club.
"Sometimes it's not about a big voice. It's the way they go about their professionalism and Tom encapsulates a bit of everything."