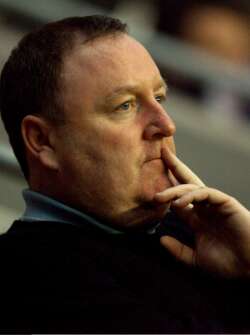 Canvey boss Jeff King
Canvey boss Jeff King though was delighted with his team's performance despite the defeat,
"I thought we were excellent today but credit to Burnley because they scored their goals. I know the score was 4-1 but I don't think it was a 4-1 game, I am very proud of my players.
"At half time we were 2-0 down but I told them I thought they were playing better than I thought they could. We proved that we are not a team of up- and under players and it is a shame we had a few people missing. Julian Dicks wanted to play with an injection but the chartered physio told us he shouldn't, he might not have played again for eight weeks.
"Today has given us all a taste of the big time and I hope it has made us all hungry for more. I hope we can go on to better things. We don't want to be one year wonders as we have proved this season carrying on what we did last year.
"I just told them to keep going and if we could get a goal they might wobble. We got the goal, which I thought was the best one of the game, but we left gaps chasing the game and you can't do that against players of this experience and calibre. They are used to playing at that pace.
"Today has given us all a taste of the big time and I hope it has made us all hungry for more. I hope we can go on to better things. We don't want to be one year wonders as we have proved this season carrying on what we did last year."
Stan was pleased with the result and the performance for most of the game and said,
"It could have finished five, six or seven and it was a match we were expected to win so you can't do better than win it.
"I did not think a lot when they got a goal back. The guy got past Westy, crossed it and he finished well. I think we took the foot of the pedal when we went two in front and when they scored it woke us up a bit.
"It is nice to win after losing at Manchester City and we are not doing too badly as that is now just one defeat in 12 games.
"I thought Canvey were terrific, a credit to their manager and Glenn Pennyfather, who played for me at Palace. He is a cracking lad. Dagenham and Redbridge won their league a couple of years ago and they are no mugs. It doesn't matter what level you play at, you don't go 27 matches unbeaten without being able to play."
Moore hat-trick sinks Canvey
Ian Whittell at Turf Moor (Observer)
No upset, but certainly no disgrace for the Ryman Premier League Davids from Canvey Island, who fulfilled every cliché required of the FA Cup underdog before finally succumbing to that other great truism of such encounters, the superior fitness and organisation of the Goliath.
A hat-trick from man-of-the-match Ian Moore finally killed off the non-leaguers, but Burnley had to work hard for the win.
As befitted a team defending a 27-game unbeaten run - 26 of those victories - Canvey approached the contest with no little confidence.
They were without former West Ham full-back Julian Dicks, predictably suffering from a knee injury, and striker Neil Gregory, whose goals had accounted for Northampton and Wigan in previous rounds and carried the non-league club through to their third-round debut.
But, even with 18-goal Lee Boylan as a solitary striker, Canvey set about the task with an admirable desire to attack. Adam Miller, an attacking midfielder supporting Boylan from deep, sent a speculative volley wide from a half-cleared attack and full-back Mickey Bennett showed a skilful turn in the box before being stopped by a well-timed challenge at his feet by keeper Nik Michopoulos.
Most exciting of all for the near 1,000 Essex folk who had started their journey north at six o'clock in the morning, Miller took advantage of Kevin Ball being blocked by the referee to sidestep a challenge and unleash a tremendous 30-yard shot that skidded just wide of the goal.
Therefore, there was a sense of injustice, at least to the neutral, when Burnley delivered a telling blow from Tony Grant's perceptive long-range pass. It sent striker Ian Moore scurrying down the right wing to produce a cross poorly cleared by Steve Ward into the path of Glen Little, who converted into the open goal.
Not that the goal dampened the visitors' enthusiasm for the task. Before half-time, Ian Cox was required to make a vital block on Chris Duffy's goalbound effort and, when Boylan's follow-up shot cleared the bar, the Turf Moor crowd vented their frustrations on their team.
Fortunately, for them, it was only a matter of seconds before Ian Moore apparently killed off the tie, ghosting ahead of his marker at a Little free-kick to glance in the tidiest of finishes.
The second goal - and, more specifically, its timing - should have taken the sting out of the tie, although the visitors opened the second half with a minor flourish as Boylan teed up John Kennedy for a shot that the Canvey man deposited high and wide.
Thereafter, the more likely goalscorers appeared to be the home team. Ian Moore should have scored from Dean West's cross, Ball was just beaten to a through-ball by the keeper, and Little shot just wide after a misunderstanding between Bennett and Harrison.
But Canvey hit back through Boylan. His goal from 12 yards, the result of a telling pass from the impressive Miller and an intelligent run and cross from Spencer Knight, restored interest in the tie.
And it took a further anxious 10 minutes before Burnley, a team whose Premiership ambitions extend far beyond the Rymans, killed off the match when Ian Moore curled in Arthur Gnohere's pass for his second goal of the game.
His hat-trick followed six minutes from time, an unmarked but still convincing finish after Dimitri Papadopoulos had headed Ball's centre back across goal.
Island sunk by Moore's magic
By Richard Slater (Independent on Sunday)
An outstanding performance by the Burnley striker, Ian Moore, who scored a hat-trick after creating his side's opening goal, ensured no upset rocked Turf Moor. But Canvey Island, making their debut in the third round, can take heart from a fine and spirited performance.
Particularly in the opening period, the non-League visitors were at least the match of their loftier opponents and, but for shyness in the box, they might have gone to the break with a deserved lead to defend. As it was, Moore took advantage of the opportunities he was afforded by his side's otherwise modest display – a rampant last five minutes aside - and his scent for goal meant the whiff of upset evaporated in the second half after Canvey had pressed and halved their deficit.
On a day when many of Burnley's supporters chose to spend a day at the sales rather than view a game they fully expected to win, the manager, Stan Ternent, was less assured. With their New Year's Day match against Bradford City postponed thanks to a frozen Turf Moor pitch, perhaps he wanted to prevent ring-rust setting in among his charges.
Whatever the reason, Ternent chose his strongest available 11 to face Jeff King's Ryman Premier League leaders. It was just as well because, despite the absence through injury of the talismanic duo of Julian Dicks and Neil Gregory, the goal hero against Wigan and Northampton in previous rounds, the visitors made much the stronger early impression.
So much so that it was relief that met Glen Little's opener. Tony Grant fed Ian Moore on the right flank and his low cross fell kindly for Little after central defender Steve Ward mis-hit his clearance. Canvey were not disheartened and continued to have the better of the possession and Chris Duffy saw a firm shot blocked. But it was here, in the danger areas, that the gulf in quality was apparent and just before the break Burnley doubled their advantage when Moore glanced in Little's floated free-kick.
A more composed and authoritative Burnley emerged after the interval but, as in the first half, the side in the ascendancy conceded. Spencer Knight eased past Dean West and picked out Lee Boylan who struck firmly from ten yards.
But the possibility of a giant-killing was swiftly eradicated and, with it, Canvey's unbeaten run, which had reached 27 games. Arthur Gnohere deserted his defensive duties and crossed from the left for Moore to get his second and, with seven minutes left, the hat-trick was complete. Kevin Ball, a Cup finalist with Sunderland, sprung the offside trap and crossed deep from the right for substitute Dimitri Papadopoulos to head down. Moore struck home with venom.
Canvey's affable manager and holiday park owner, Jeff King, was rightly satisfied with his side's performance and their season's achievements. "We were excellent and, with a little luck, we might have won. But we proved we are not a team of up-and-under kicks, and the fact we had a few players missing made me even more proud. The best moment of the day, though, was when we were cheered from the pitch by both sets of fans."
His side, chasing promotion to the Conference and another shot at knock-out glory in the FA Trophy, deserved nothing less.