Maybe the play-offs were in part introduced to give some of those clubs some hope that promotion might still be possible, not just to reduce the number of meaningless end of season fixtures when there was nothing of substance left to play for.
On Monday 21st April 2014 the trend was bucked in tremendous fashion when 'little old Burnley' triumphed 2-0 against Wigan to confirm their return to the Premier League after a season of tremendous achievement, managed by Sean Dyche and his TEAM on the pitch and also his team behind the scenes or maybe I should say out of the limelight.
Sean Dyche is very much the front man of our club, the voice of the playing side of our club. It is a role that that fits like the proverbial glove. I hope that Sean has found his club just as Sam Vokes has found his club.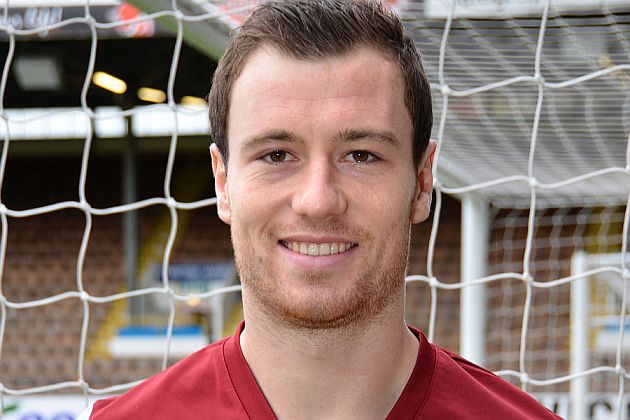 Ashley Barnes sent Turf Moor into ecstacy with the first goal
The best careers in football belong to men who have achieved results long-term, usually at the same club. Of course there are exceptions but Sam and Sean have done the rounds and Sam now looks like he may be able to put down some footballing roots and happily signed a contract extension earlier this season.
Sean Dyche has beliefs that include what it takes to achieve success, short-term and longer. He came in and made it his priority to stop his team leaking goals. He achieved that in less than a season but more importantly imposed himself on his players and did what he could to encourage the players to buy into his philosophy on football and in life. Players were told that new contracts would be at reduced terms as a matter of necessity. Some accepted and some chose to move on. There was no place for people who could not accept the clubs basic housekeeping.
The season began a couple of days after last season's top scorer left to go to the divisions moneybags club QPR. Sean Dyche always has a Plan B. There was no panic signing, he had spent the summer recruiting players to buy into his work and team ethic.
He had decided on his first choice team and who would come in if required should there be injuries. Changes would be seamless and the wheels would keep turning. When Ross Wallace was injured Sean Dyche identified Michael Kightly as the man to bring to the club.
Sean Dyche has proved that his knowledge of players he has previously worked with has been an important ingredient in getting value for money for Burnley FC.
In the weeks leading up to the home game against Wigan, Burnley despite what seemed like a sudden glut of injuries and suspensions had opened up what eventually became an unassailable points gap to the chasing clubs including moneybags QPR who despite a wealth of signings had been unable to find the right combination of players. The word TEAM didn't seem to apply and their supporters are looking at Burnley with envy. They have now accepted that money still needs to be spent wisely and the players need a mindset to match their salaries.
Rosler, the Wigan manager had rotated his squad making 4 changes from the previous game. The game began with typical sparring, the wind playing it's part in passes not reaching their intended targets and for 15 minutes no team had the upper hand.
At this point the ref had perhaps had the biggest impact by changing his mind on 'allowing advantage' on two occasions. This at least gave the crowd something to get vocal about.
On 15 minutes Arfield sent in a high cross from the left that troubled Al-Habsi but went out just wide of the far post. This signalled the start of Burnley getting on top and Sean Dyche was becoming increasingly animated on the touchline in the space between his area and the touchline and in the 20th minute he almost tackled Stephen Crainey before taking a step back.
2 minutes later and Burnley were in the lead. Arfield in the centre circle fed Barnes whose first touch found Jones just inside the Burnley half. Barnes reeled away to head for the penalty area while Jones took a couple of touches to spray it out wide right where he found Kightly.
One touch inside to Ings, a volleyed one touch wide again to Dean Marney who was running into space on the corner of the penalty area and another one touch cross between their last defender and goalkeeper to find Barnes who with a one touch low volley easily converted the chance for Turf Moor to erupt in ecstasy.
Barnes leapt over the advertising hoardings and slipped on his backside but was up immediately celebrating with fans and teammates. Two minutes later and Jones teed up Arfield just outside the area but his volley flew over.
Burnley were now looking like they might score anytime they attacked. On 27 minutes a Trippier throw put Marney clear into Wigan's penalty area. Coming in from the right Marney seemed unsure whether to shoot or cross and his eventual cross was dealt with by a strong hand from Al Habsi diving low forwards and to his right as defenders and attackers all strained to reach the ball first.
On 30 minutes Wigan finally offered a threat. A Gomez free kick 35 yards out on the left, aimed towards the centre of our penalty area was met by the head of Fortune. A flicked header struck the Heaton's bar close to the left hand post. If that had gone in we would have been debating whether or not Duff's challenge should have been penalised. For me it was debateable.
The next incident in the 31st minute wasn't debateable at all but fortunately Barnes only received a yellow card for an aerial challenge that resulted in Boyce having a bloody eyebrow, whilst Barnes suffered a bloody elbow.
When Boyce returned to the fray all bandaged up I anticipated an act of revenge but the next aerial challenge was a weak two handed push by Boyce into the back of Ings that the ref for some reason allowed to go unpunished although he was only 5 or 6 yards away with an unobstructed view.
In the 37th minute from a Burnley corner Barnett had his arms around Barnes giving him a loving hug but the ref waved away the resulting penalty appeals. A minute later and we were awarded a free kick 20 yards out to the right of goal. Jones aimed a shot towards Al Habsi's right hand post but the goalkeeper was equal to it.
Burnley were piling on the pressure and had two successive corners but couldn't fashion a goal-scoring chance from either of them. Wigan then broke away and the referee had to make another choice of card colour when Marc-Antoine Fortune felled our captain Shackell with another aerial challenge with a leading arm.
From where I was sitting Fortune appeared to use more elbow velocity and I was up on my feet, calling for a red card, but I guess referee Stroud would say that he was being consistent in his colour choice.
Immediately we resumed our attacking play and in the 42nd minute doubled our lead. Arfield who had given James Perch a torrid time went past him again wide left and on the edge of the area close to the goal-line, before Perch pulled him down and not for the first time.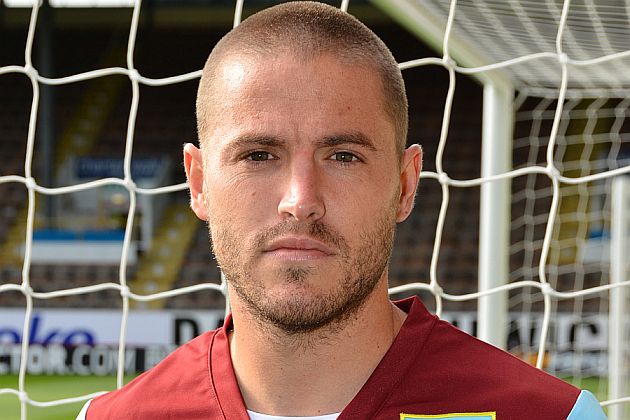 Michael Kightly scored the second just before half time
Kightly got hold of the ball and instead of taking what should have been a 'short corner' placed the ball 10 yards in from the goal-line just outside the area. Kightly then whipped in a fast head high cross aimed towards the far post.
Crainey had wandered into the centre of the penalty area and attempted to head clear but the ball cleared him or took the slightest touch but there was no deflection and the ball nestled inside the far post side netting and Turf Moor was alight again.
Singing and chanting volumes increased and reverberated around 3 sides of the ground. Now everybody believed that we were going up two matches early. As the first half drew to a close we continued to press with Ben Mee hitting a 25 yard drive which stung the hands of Al Habsi.
Mee then won another free kick wide left and Kightly took it to set up Trippier who blasted high and wide from 25 yards. Burnley after a slow, steady start had completely dominated the final 35 minutes of the half and could easily have been out of sight.
The second half was always going to be slower and when that wind picked up again it seemed to negate the effectiveness of our passing game.
Wigan substituted Crainey and Gomez at half-time with Kiernan and McManaman. McManaman was perhaps Wigan's best player on the day, certainly all their forward plays seemed to include him. He was brave, cool in possession and drove hard for goal whenever he got close to our penalty area. He can leave his mark in a tackle and when Mee flattened him he got up and played on without a murmur.
On 50 minutes Kightly won a tackle 35 yards out moved towards the Wigan goal and hit a low drive a yard wide. Rather like the opening 15 minutes of the first half goalkeepers didn't have a lot to do but Wigan were playing better with McManaman at the heart of almost every move and if it wasn't him it was James McClean but thankfully our defence stood firm.
Our only real dangerous moment came when a high ball beyond Duff held up in the wind and didn't bounce as high as Duff expected. This meant that Heaton had to come and make a goal saving tackle which was mopped up jointly by Shackell and Mee.
Duff and Heaton had a few words but eventually they decided to get on with the game before the ref could accuse them of time wasting.
In the next minute Danny Ings broke clear down the left and from a tight angle tried to steer his shot past Al Habsi's right hand but struck the post. Barnett, Boyce and Collison were all booked for offences against Ings and Barnes.
Wigan's next few threats were deep corners from James Perch aimed at the head of Boyce that all went wide of Heaton's right hand post. Barnes hit a stinger that warmed the hands of Al Habsi and Mee ended Wigan's final threat deep in our area with a tackle on McManaman that left Mee needing some treatment a minute later.
Trippier had been substituted on 78 minutes after a couple of heavy challenges and was able to receive a standing ovation from 3 sides of the ground as Baird took his place on the right and made two excellent long passes as the game drew to a close with Burnley having relieved any pressure that may have been building.
As the final whistle blew we had the customary pitch invasion and when the pitch was finally cleared, players, staff and their loved ones did a lap of honour as the fans enjoyed the emotions of the day, some already, no doubt, looking forward to next season and the trials and tribulations that lie ahead. For me it is about the signing of new contracts with existing staff and the recruitment of the manager's targets.
Now the club, team, staff and supporters can enjoy and look forward to next season. The board can be proud of their appointment of Sean Dyche and everyone can renegotiate their contracts. As a supporter I hope that all contract negotiations end satisfactorily with all players signing.
I also believe that the board don't delay in talking to Sean Dyche to tie him to the club for longer. Klopp at Borussia Dortmund has said he is not interested in the Man U position as he has an 'unbreakable bond' with Dortmund. Wouldn't it be fantastic if similar noises came out of Burnley FC over the next few weeks.
At the moment things look fairly promising in that respect. Maybe the Charlie Austin story might influence the players and Sean Dyche might be persuaded to build a dynasty where he is right now.