A night on the rebound
Report of match Burnley 2 Cardiff City 2 played 9th December 2008
Reporter Tony Scholes
After the dizzy heights of the wins against Arsenal and Sheffield United it was inevitable that we would come back down to earth at some point and we did last night as an under strength Burnley were held to a 2-2 draw by Cardiff.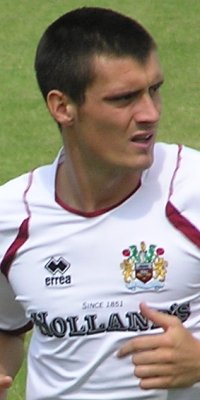 Stephen Jordan - Man of the Match
We were In front early in the game again, but this time we were thankful for a late Steven Thompson goal against his former club to ensure a point and keep us in fourth place in the table.
Maybe it was an undeserved point, and we certainly didn't warrant any more than that one point, and it has to be said that Cardiff were probably, Reading apart, the best team who have visited the Turf this season. They caused us some real problems, particularly through Jay Bothroyd and Wayne Routledge.
Owen Coyle was again without Michael Duff (injured) and Chris McCann (ill) but he was able to welcome back Clarke Carlisle after his third suspension of the season. That meant a more recognisable looking back four than the one that had played at Bramall Lane, and with Wade Elliott back in his customary position it was Steven Thompson who dropped out.
It was a quiet sort of opening from the Clarets and Cardiff were looking the better of the two in the early stages. But we put an end to that in the best way possible by taking the lead. Graham Alexander's ball into the box found Martin Paterson who did really well as he turned to shoot, but Peter Enckelman did well to save the shot. However, he could only parry it and there was Robbie Blake to hammer it home.
The goal certainly set the pattern for the game, with all four goals coming after the respective goalkeepers had made saves but were unable to gather the ball.
Once in front we had our best spell of the game and could so easily have doubled the lead on a couple of occasions. Our best opportunity came when Chris Eagles got down the left, but with Pato in a good position he just couldn't get his cross in.
We weren't on top for long. Routledge got clear and Brian Jensen did well to save his effort, but just as was the case at the other end, when the ball run loose it was a forward, this time Bothroyd who scored from the rebound.
All square and by half time we were thankful to still be level with Cardiff getting control of the game. We just couldn't get our passing right and subsequently weren't getting enough possession of the ball, but Cardiff didn't create too many opportunities although did have a couple of efforts blocked.
The half ended with Burnley fans screaming for a red card for Routledge, a player who has already suffered a red card at Turf Moor in his career. Right on half time he was fouled by Steven Caldwell and then seemed to kick out at the Burnley skipper.
By now we'd already reached the point where picking six winning numbers on the lottery was probably easier than working out referee Colin Webster's decisions, and on this occasion he chose to yellow card both players. Correct decision or not?
As half time approached the PA announcements were appealing for fans to remain in their seats for the special presentation to Jimmy McIlroy. So sure many did, but how disappointing to see the directors box empty and its inhabitants disappear whilst Jimmy received the most fantastic reception.
And well done Cardiff fans. There weren't many of them at the Turf but the applause that came from the cricket field stand for our former great was genuine and well received.
The applause for the Irish genius had hardly died down when Cardiff took the lead at the beginning of the second half. This time the roles were reversed as Jensen saved Bothroyd's effort with Routledge following up to score the rebound.
My first thoughts were that the goalkeeper was at fault and should have done much better with this. Television pictures suggest I was being somewhat harsh, and in fact he did well to save the initial shot.
Either way we were behind and very little happened for us in the second half to suggest we were going to get back into it. We were strangely subdued. Coyle opted to bring on Thompson for Elliott just before the hour, but it didn't make too much of a difference to us and you sensed that should there be another goal we would more than likely be looking at a 3-1 scoreline.
I don't know what it is with Coyle and his substitutions, but they don't half work when it comes to scoring goals. Before this game we can count ten goals we've scored this season by players who have come on as a sub. You can make that eleven now.
With less than a quarter of an hour remaining we got the ball down the left wing. Paterson's cross was awful, and it looked as though an opportunity had been wasted as the ball sailed all the way over to the right.
But Eagles picked it up, crossed it back in for Blake to hit a shot goalwards. It looked as though he'd got his second but Enckelman did well to get a good hand onto it and divert it onto his left hand post.
All defender Roger Johnson had to do was knock it clear, but it looked as though he kicked the post rather than the ball and that was just the opportunity Thompson needed to score his first Turf Moor goal, and against his former side.
We pushed for a winner as Cardiff now dropped deeper, but in fairness we didn't come close to it and in the end had to settle for a point, but I think in the end it was a good point.
There's no doubt that the sort of form we've shown in the previous three games wouldn't continue indefinitely. This was most definitely and off night, and against a very good side, and yet we still came away with a point and we are still fourth in the table.
There was nothing in this performance to get over concerned about, that is provided we get back to our best this Saturday when Southampton are at the Turf.
As for the man of the match, it's almost getting boring at the moment, but again I'm going for Stephen Jordan who I thought had an excellent game at left back.
I hadn't realised that this was the first time we'd conceded any goals at home since the 1-1 draw with Birmingham in October. To put it all in perspective, since that Birmingham draw we've won 21 points from 11 games and beaten both Chelsea and Arsenal in the Carling Cup.
There's not much to worry about is there?
The teams were;
Burnley:
Brian Jensen, Graham Alexander, Clarke Carlisle, Steven Caldwell, Stephen Jordan, Wade Elliott (Steven Thompson 57), Joey Gudjonsson, Kevin McDonald (Alan Mahon 71), Chris Eagles, Robbie Blake, Martin Paterson. Subs not used: Diego Penny, Alex MacDonald, Ade Akinbiyi.
Yellow cards:
Steven Caldwell.
Cardiff:
Peter Enckelman, Kevin McNaughton, Roger Johnson, Gabor Gyepes, Mark Kennedy, Wayne Routledge, Gavin Rae, Joe Ledley, Paul Parry (Miguel Comminges 90), Michael Chopra, Jay Bothroyd (Eddie Johnson 73). Subs not used: Tom Heaton, Darren Purse, Riccardo Scimeca.
Yellow cards:
Wayne Routledge.
Referee:
Colin Webster (Shotley Bridge).
Attendance:
11,230.