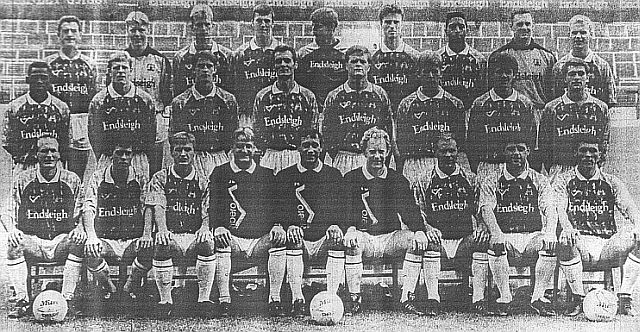 The First Division, in its last season before the Premier League, had decided to go back up to 22 clubs having had reduced numbers in the previous four seasons and that had caused the problems further down the league.
And so Burnley had to sit and watch as the rest of the league played. We'd dropped to 8th place after the defeat at Hereford on the Saturday and thankfully that's where we remained after the midweek games.
There were four teams at the top on 13 points before the games but it was Hereford and Barnet who stole ahead of the rest with wins whilst the other two, previous leaders Rotherham and Rochdale, had to settle for draws.
Scarborough, the last team without a win, finally did it with a 1-0 home win against Doncaster. They'd kicked off as the bottom two clubs but an Adrian Meyer goal was enough to dump Donny back on the bottom with Scarborough climbing to 19th.
Rochdale remained the only unbeaten team in the league. Steve Whitehall scored to give them a draw against Rotherham. With Burnley keeper David Williams on loan they were doing well and were Burnley's next opponents.
The Midweek Results
Tuesday 17th September 1991
Barnet 3 Scunthorpe United 2
Blackpool 2 Gillingham 0
Carlisle United 1 Mansfield Town 2
Chesterfield 0 Walsall 1
Crewe Alexandra 1 Northampton Town 1
Halifax Town 1 Cardiff City 1
Hereford United 2 York City 1
Maidstone United 0 Lincoln City 2
Rochdale 1 Rotherham United 1
Wrexham 0 Aldershot Town 0
Wednesday 18th September 1991
Scarborough 1 Doncaster Rovers 0
The League Table
Team
pld
w
d
l
f
a
pts

Hereford United

7

5

1

1

11

2

16

Barnet

7

5

1

1

18

11

16

Rotherham United

7

4

2

1

13

5

14

Blackpool

7

4

2

1

11

5

14

Mansfield Town

7

4

2

1

11

5

14

Rochdale

6

4

2

0

9

4

14

Crewe Alexandra

7

3

3

1

17

10

12

Burnley

6

3

1

2

11

6

10

Walsall

7

3

1

3

9

10

10

Scunthorpe United

7

3

1

3

10

12

10

Northampton Town

6

2

3

1

8

6

9

Lincoln City

6

3

0

3

6

10

9

Aldershot Town

6

2

2

2

7

8

8

Gillingham

6

2

1

3

8

7

7

Cardiff City

7

1

4

2

7

8

7

York City

6

1

3

2

4

5

6

Chesterfield

6

2

0

4

4

7

6

Wrexham

7

1

3

3

5

10

6

Scarborough

7

1

2

4

5

12

5

Halifax Town

6

1

2

3

2

9

5

Carlisle United

7

1

1

5

8

12

4

Maidstone United

7

1

1

5

3

13

4

Doncaster Rovers

7

1

0

6

7

16

3