Up to second as weather strikes
By Tony Scholes
Updated Wednesday, 14th December 2011
Views: 696
Burnley's 4-0 win against Rochdale in the Youth Alliance League has taken the young Clarets into second place in the table, with a little help from the weather which saw our two closest rivals have their games called off.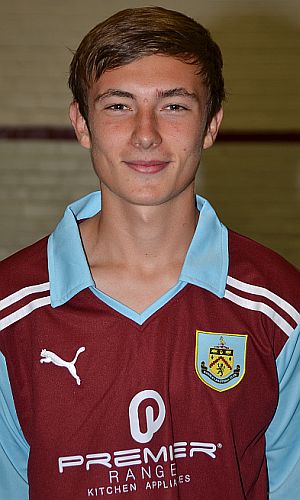 Alex Mullin
We started the day in third place but knew a win would see us go up one place when news came through that Preston's game at Accrington had fallen victim to the weather and with Carlisle's visit to Bury also postponed it meant that the win has taken us behind the Cumbrians only on goal difference.
It's left things very tight at the top. Carlisle and ourselves have 30 points whilst Preston are just one point behind on 29.
The team still to watch for is Walsall. They remain unbeaten and are only three points behind with two games in hand. However, after their lightening start to the season, when they won the first seven games, they've won only one of the last four and again could only draw on Saturday in a home game against Tranmere Rovers.
The biggest winners on Saturday were Port Vale who hit six past Wrexham and there were also wins for Blackpool, Stockport and Wigan against Oldham, Shrewsbury and Macclesfield.
Although at home, those wins for Blackpool and Wigan were something of a surprise. Neither of them win very often and neither of those results could have been predicted, certainly in the case of Blackpool beating Oldham.
Preston are the only one of the top four without a game this weekend. Walsall travel to Macclesfield whilst Carlisle host Oldham.
For the Clarets it's a home game against Morecambe who are currently in bottom place in the table. With a run of eleven successive wins, seven of them in the league, this is one where we very definitely don't want to slip up.
Kick off at Gawthorpe on Saturday morning is 11:00 a.m.
Below are last Saturday's results, this Saturday's fixtures, Burnley's goalscorers and the current league table.
LAST WEEK'S RESULTS
Saturday 10th December
Accrington v Preston - Postponed
Blackpool 1 Oldham 0
Burnley 4 Rochdale 0
Bury v Carlisle - Postponed
Port Vale 6 Wrexham 1
Shrewsbury 1 Stockport 3
Walsall 0 Tranmere 0
Wigan 2 Macclesfield 0
THIS WEEK'S FIXTURES
Saturday 17th December
Burnley v Morecambe
Carlisle v Oldham
Macclesfield v Walsall
Port Vale v Wigan
Rochdale v Accrington
Shrewsbury v Wrexham
BURNLEY'S GOALSCORERS (League and all Cups)
14: Jason Gilchrist
13: Shay McCartan
5: Steven Hewitt
4: Adam Evans
3: Cameron Howieson
2: Archie Love, Alex Mullin
1: Lewis Nuttall, Dean Overson, James Taylor, Aryn Williams, own goal
CURRENT LEAGUE TABLE
Interact with us