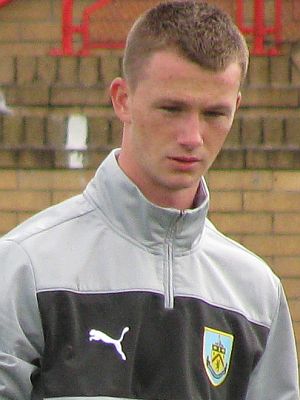 Luke Gallagher
The last few years have seen some familiar faces on the touchline for North End with Jamie Hoyland their youth team coach. Jamie lost his job at the end of last season and has been replaced by Graham Alexander who has moved into coaching after ending his playing career.
Both teams have won one and lost one so far. We lost at home to Bury two weeks ago, as Preston beat Blackpool, but last week we were victors against Fleetwood with Preston losing at Carlisle.
Again it's an inexperienced team that will line up for Burnley. Cameron Howieson is still away after his exertions during the summer; Jack Errington has just returned to training and Luke Conlan did come through the friendly against Oldham after his injury but is not included.
That leaves Luke Gallagher and Jason Gilchrist, who have both scored in each of the two games, as the only two second year scholars. There are five first years alongside them in Callum Jakovlevs, Charlie Holt, Nathan Lowe, Luke Daly and Lewis Nuttall with the side completed with four players from the centre of excellence.
The Burnley team is: Callum Jakovlevs, Waqas Azam, Christian Hill, Charlie Holt, Richard Barnes, Nathan Lowe, Luke Daly, Brad Jackson, Luke Gallagher, Jason Gilchrist, Lewis Nuttall. Subs: Andreas Bianga, Billy Hasler-Cregg, Williams, Daniel Vile.
Kick off at Springfields, Preston's training ground, is 10:30 a.m.