Southampton and Derby lead the way
By Tony Scholes
Updated Monday, 22nd August 2011
Views: 35
Ipswich are definitely improving the goals total in the Championship so far this season. Having conceded five at home to Southampton in midweek they bettered that with a 7-1 hammering at Peterborough on Saturday.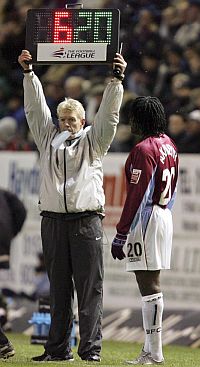 Ade Akinbiyi - no record holder
Boosted by this incredible result, Peterborough are now the league's leading goalscorers with 12 whilst Ipswich, with 13, have conceded more than any other.
This was the most remarkable of games though. With half an hour gone it was 1-0 to Ipswich but three minutes before half time Peterborough got their fourth. Ipswich then had players sent off either side of half time and the goals just kept coming.
Tommy Smith was the second to see red. He'd come on at half time as a substitute and managed to get himself sent off after just 67 seconds. And we thought Ade Akinbiyi was a record breaker in that respect.
Compared to that game the rest of the division was relatively quiet although referee Jon Moss gave Nottingham Forest another helping hand. Moss, for me, is the biggest homer in English football. I'd have no problems if he refereed all of our home games but get him away from home and you can be in trouble.
We found that out at Forest last season when he sent off Marvin Bartley and Leicester found out too on Saturday in the clash of the former England managers - Umbrella Man v I snubbed Blackburn Sven.
Leicester were cruising to a win. 2-0 up and Forest were out of it until Moss stepped in with a penalty decision that stunned everyone. Yes, the ball did make contact with Matt Mills' hand, but the award of a penalty was a nonsense.
Kasper Schmeichel wasn't impressed and had a word with Moss. He was promptly yellow carded but the card was clearly shown behind Schmeichel's back. He claims he was unaware, so when there was a further reaction after the penalty was scored, he was stunned to see a red follow the yellow.
Leicester were forced to bring on Chris Weale and he was at fault with the equaliser. A draw it was; but a result brought about on a referee's poor decision.
Looking at the rest of the league. Southampton and Derby remain top with 100% records. They both won at home, Southampton 1-0 against Millwall and Derby 3-0 against Doncaster who are now the only pointless side.
We travel to Derby on Saturday, the scene of our last league victory. It's astonishing to think that we go there 10 points behind them.
Finally this week, congratulations to Hal Robson-Kanu of Reading. He scored from the penalty spot in their 2-1 home defeat against Barnsley. Nothing remarkable you might think but it was Reading's THIRD penalty of the afternoon with Ian Harte and Noel Hunt having already missed from the spot in the space of three minutes.
I might be wrong but I can't recall ever having seen Burnley win three penalties in one game. Perhaps a home game with Jon Moss in charge might be our best chance.
The results and stats are below along with the leading scorers, each club's disciplinary record, the highest and lowest attendances and the next fixtures.
The Weekend Stats

Biggest Win

Peterborugh United 7-1 v Ipswich Town (home)

Total Goals Scored

34 (22 home - 12 away)

Player Scoring Most Goals

3 - Lee Tomlin (Peterborough United)

Highest Attendance

28,252 - West Ham United v Leeds United

Lowest Attendance

7,928 - Peterborough United v Ipswich Town

Total Yellow Cards

39

Total Red Cards

3

Most Cards in a Game

Brighton & Hove Albion v Blackpool (8Y) Ref: Phil Gibbs
Leading Goalscorers (League Only)

4

Kevin Phillips (Blackpool)

3

Ashley Barnes (Brighton & Hove Albion) - includes 1 penalty
David Connolly (Southampton)
Steve Davis (Derby County)
Marvin Emnes (Middlesbrough)
Adam Lallana (Southampton)
Nicky Maynard (Bristol City)
Grant McCann (Peterborough United) - including 1 penalty
Paul Taylor (Peterborough United)
Lee Tomlin (Peterborough United)

2

Keith Andrews (Ipswich Town)
Charlie Austin (Burnley)
Michael Chopra (Ipswich Town)
Carlton Cole (West Ham United)
Robert Earnshaw (Cardiff City)
Darius Henderson (Millwall)
Will Buckley (Brighton & Hove Albion)
Rickie Lambert (Southampton)
Mathieu Manset (Reading)
Craig Mackail-Smith (Brighton & Hove Albion)
Ross McCormack (Leeds United)
David Nugent (Leicester City)
Barry Robson (Middlesbrough)
Hal Robson-Kanu (Reading) - includes 1 penalty
Sean Scannell (Crystal Palace)
Liam Trotter (Millwall)
Hat Tricks
Date

Player & Game

20/08/11

3: Lee Tomlin - PETERBOROUGH UNITED v Ipswich Town
Disciplinary Record (League and Cup)

Club

Y

R

Y

R

Club

Y

R

Y

R

League

Total

League

Total

Barnsley

7

0

8

0

Ipswich Town

4

2

4

2

Birmingham City

3

0

3

0

Leeds United

11

2

12

2

Blackpool

9

0

10

1

Leicester City

10

2

11

2

Brighton and Hove Albion

12

0

15

0

Middlesbrough

7

1

8

1

Bristol City

7

0

7

0

Millwall

10

0

11

0

Burnley

3

1

5

1

Nottingham Forest

2

0

4

0

Cardiff City

6

0

9

0

Peterborough United

4

0

6

0

Coventry City

5

1

6

1

Portsmouth

11

0

14

0

Crystal Palace

8

0

8

0

Reading

4

0

4

0

Derby County

9

0

9

0

Southampton

2

0

2

0

Doncaster Rovers

6

0

6

0

Watford

8

0

8

0

Hull City

5

0

5

0

West Ham United

3

0

3

0
Highest and Lowest Attendances

Highest

Lowest

Att

Fixture

Att

Fixture

28,252

West Ham United v Leeds United (21/08)

7,928

Peterborough United v Ipswich Town (21/08)

27,210

Derby County v Birmingham City (06/08)

9,464

Doncaster Rovers v Nottingham Forest (16/08)

25,860

Southampton v Leeds United (06/08)

10,240

Millwall v Peterborough United (14/08)

25,680

West Ham United v Cardiff City (07/08)

10,501

Barnsley v Southampton (13/08)

25,650

Leeds United v Middlesbrough (13/08)

10,603

Barnsley v Middlesbrough (16/08)

24,426

Nottingham Forest v Leicester City (21/08)

11,344

Doncaster Rovers v West Ham United (13/08)

23,377

Derby County v Doncaster Rovers (21/08)

11,604

Peterborough United v Crystal Palace (06/08

23,333

Southampton v Millwall (21/08)

12,010

Millwall v Nottingham Forest (13/08

23,329

Leicester City v Reading (13/08)

12,263

Watford v Derby County (13/08

23,013

Cardiff City v Brighton & Hove Albion (17/08)

12,330

Crystal Palace v Coventry City (16/08
The Next Fixtures
Saturday 27th August

Brighton & Hove Albion v Peterborough United

Ipswich Tpwn v Leeds United

Crystal Palace v Blackpool

Leicester City v Southampton

Derby County v Burnley

Middlesbrough v Coventry City

Doncaster Rovers v Bristol City

Millwall v Barnsley

Hull City v Reading

Portsmouth v Cardiff City

Sunday 28th August

Nottingham Forest v West Ham United (13:15)

Watford v Birmingham City
Interact with us