Skipper McCann is top man at Peterborough
By Tony Scholes
Updated Thursday, 22nd September 2011
Views: 21
Burnley turned in another disappointing performance in the league game last Saturday against Peterborough United at London Road, with Chris McCann being voted our best player on the day.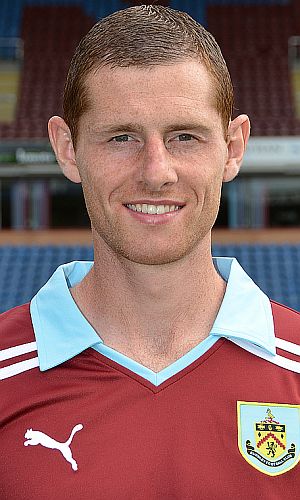 It was another game where the man of the match vote was low, a clear indication of the performance, and where McCann was the only player to score more than the average of six in the player ratings.
We lost the game 2-1 with all the goals coming in the first half and McCann shared the man of the match vote with goalscorer Keith Treacy. Both won 19.1% of the vote and behind them in the third place was left back Brian Easton. He was the pick of the back four and collected a 16.0% share of the vote.
McCann was some distance clear at the top of the player ratings. He scored 6.06 out of 10, just above the average score. Goalkeeper Lee Grant came on as a substitute for Brian Jensen just 17 minutes into the game and he came in second with a rating of 5.75. Again Easton was third and his rating was 5.50 out of 10.
That gives McCann six points towards the Clarets Mad Player of the Year, his first points of the 2011/12 season. Treacy wins three points and there are two points each for Easton and Grant.
Kieran Trippier still leads the table by six points whilst Keith Treacy, the highest placed of the point scorers from this game, is now in joint fourth place with David Edgar.
The man of the match vote from our Carling Cup win against MK Franchise is currently underway and will run until the end of tomorrow (Friday) with the Southampton man of the match vote starting around an hour after the final whistle on Saturday.
Below are the results from the Peterborough game and the current player of the year table.
Man of the Match
19.1% - Chris McCann & Keith Treacy (49 votes)
16.0% - Brian Easton (41 votes)
10.9% - Charlie Austin (28 votes)
7.4% - David Edgar (19 votes)
6.3% - Kieran Trippier (16 votes)
4.7% - Junior Stanislas & Ross Wallace (12 votes)
4.3% - Ben Mee (11 votes)
3.1% - Lee Grant (8 votes)
2.3% - Dean Marney (6 votes)
2.0% - Jay Rodriguez (5 votes)
Player Ratings
6.06 - Chris McCann
5.75 - Lee Grant
5.50 - Brian Easton
5.19 - Charlie Austin
4.69 - Keith Treacy
4.56 - Kieran Trippier
4.50 - Jay Rodriguez
4.44 - Ross Wallace
4.25 - Ben Mee
4.00 - David Edgar
3.94 - Junior Stanislas
3.81 - Dean Marney
Clarets Mad Player of the Year
18: Kieran Trippier
12: Jay Rodriguez
11: Charlie Austin
10: David Edgar & Keith Treacy
8: Brian Easton
7: Ross Wallace
6: Chris McCann
5: Wade Elliott
4: Lee Grant
3: Junior Stanislas
2: Andre Amougou & Ben Mee
1: Michael Duff
Interact with us