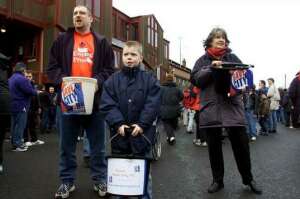 York fans with collecting buckets during the recent crisis
There was Wimbledon and their silly chairman trying to move them to Milton Keynes. We have and will continue to offer their supporters as much help as possible to fight this.
Then there was York and their crisis and we were able to attend their Fans United Day in last month and more recently, in fact last week, we bought seats at Gigg Lane to help Bury in their fight to avoid closure.
Yes we asked Burnley fans to help as much as they felt able and I know many Burnley fans have done just that. However it seems one Burnley fan has taken this to the extreme and has decided to help York City out to the tune of £4.5 million.
It looks almost certain that York will have been taken over tomorrow by John Batchelor who is a Claret and a former season ticket holder at Turf Moor. They have called a press conference for 11:00 a.m. Batchelor made his money in toilet rolls and is now a motor racing tycoon. He said he is acquiring the club for commercial reasons, which would also boost his racing team. He beat off bids along with an anonymous partner.
I can't for the life of me understand why anyone would want to buy a club whilst admitting to be a supporter of another, it doesn't quite add up to me. There have already been suggestions that he might look to relocate the club and sell off Bootham Crescent which is on prime development land. Isn't this where we came in with the York crisis? Maybe he is just continuing to support Chris Brass.
It is certainly something I couldn't and wouldn't do and should I ever have a spare £4.5 million to invest in a football club then the first person I would contact would be Barry Kilby. I can assure you Barry it would go to no other club. Having said that Barry I wouldn't hold your breath waiting for it.