Fulham stuck in London as Pride Park ticket prices go up and down
By Tony Scholes
Updated Monday, 18th June 2012
Views: 131
The big news across the leagues today has been the release of the 2012/13 season fixtures with Burnley facing Bolton Wanderers on the opening day, but there has been plenty of other news around the Championship in the last week.
Those Championship fixtures were as you would expect with the 24 clubs being paired with each other over the season, and as always all 24 clubs were named. I searched for Club 12 or even Club 24 but there was no sign of either.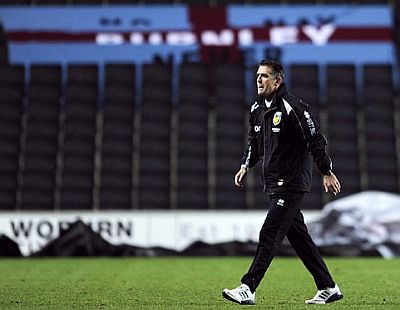 Marching off to get a flight to Scotland - he's coming back for more
That first fixture of ours will see the return of Owen Coyle and his disciples. He won't be God when he turns up in August, that's for sure, but I'm quite happy for him to return as Moses, the name so wonderfully given to him by his sidekick Alan Nixon with the pair of them not quite knowing the Bible well enough.
Whilst Howe has issued a Bring on Bolton' rallying cry there has been nothing from his counterpart in deepest Horwich. Maybe the rumours are true that he's having surgery to install yet another set of new teeth given that when the previous set opened you always heard the recorded 'BARCLAYS PREMIER LEAGUE' message.
He did speak last week, however, of their relegation and was quick to point out that there was nothing he could have done to prevent it. He pointed out that no club had ever suffered injuries in the way they had, that there was Fabrice Muamba's flirt with death and he reminded everyone that had Tim Ream's last minute header at Stoke gone in they would still be in the Barclays Premier League.
Strangely, he didn't mention the QPR goal at the Reebok that went way over the line and wasn't given but he said: "I've been in football long enough to understand all the highs and lows. But for that season, for all that to happen to one football club, is unprecedented. It won't happen again."
He went on to tell everyone just what HE did at Burnley. "I came down from Scotland to Burnley when they were in the Championship and took them out in my first full season. I used the fewest players. I went within a whisker of the Carling Cup Final."
He thinks he's set to go back up. "What we have at Bolton Wanderers is truly unique, it really he is," he said. "This is a family club and it will be envied up and down the country."
To get from the Reebok to Turf Moor is via the M65 and you need to be careful passing junction 4 - the A666 - because it is becoming one of the busiest motorway junctions in the country as staff from nearby Ewood Park make their quick exits.
John Williams, Tom Finn, Martin Goodman, Paul Hunt, John Newsham and Andrew Pincher had already gone and now apparently Anthony Block, the secretary, has lost his job. I wonder who it will be next week, or will there be news of Colin Hendry arriving?
It's all in a standard week with Venky's who found their ever dwindling number of customers fighting them last week as they held meetings with MPs, the FA and even the Sports Minister. The despicable Jack Straw, the man who said Burnley folk ate bananas with their feet, was with them.
Meanwhile they've put their season tickets back on sale and continued with the early bird price because they simply haven't sold anything like as many as they expected. They have said: "It sees the club continuing with its universally-acclaimed policy of offering supporters the best value deal in football."
So it must be right, they must be getting chicken drum sticks and half a dozen free range eggs with each season ticket.
Down in Wales there has been further news from the owners of Cardiff City Reds re: their investment. Tan Sri Vincent Tan has confirmed that a further £35 million will be pumped in over the next year. Of that £10 million is to settle an existing debt and £22 million to improve training facilities and increase the blue seated stadium. He insisted the need for the change in colour as it will appeal to international markets and give the club a new focus and dynamism.
You want your club to be owned by committed supporters like this so I bet it was music to the ears of Cardiff's fans when the owner said last week: I first heard of Cardiff City Football Club when my friend and business partner Dato' T G Chan approached me in November 2009 to ask if I would be interested in making an equity investment in a British football club which had the possibility of being promoted to the top flight of English football.
"I knew little of football then and regarded any potential investment as being purely a business decision. To that end I agreed to make an initial investment of £6 million for a 40% stake in Cardiff City Football Club."
There is nothing further to report on the potential takeovers at Leeds and Nottingham Forest as yet but suggestions are that things could be close at Forest. Rumours still persist that Neil Warnock will move there from Leeds with Steve Cotterill taking the Birmingham job.
It does look as though there could be a takeover emerging through the chaos at Watford. Two weeks ago we reported the departure of chairman Graham Taylor, and did I not like that. Suggestions were that he had, perhaps, fallen out with owner Laurence Bassini.
Late last week it was reported that the wages hadn't been paid at Vicarage Road, the news making its way onto Sky Sports News. Yellow bar or not, it's upset the aforementioned Mr Bassini who was quick to deny the accusations.
He has said: "Despite the media reports, the staff wages were paid at the end of May. In view of these inaccurate reports I have today started proceedings against Sky Sports News."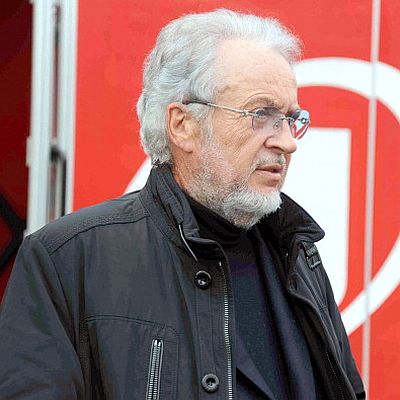 Giampaolo Pozzo - could soon be the new owner of Watford
He also took exception to the reporting of an emergency board meeting to discuss a potential takeover. There was a board meeting apparently but it wasn't an emergency.
This takeover looks to be close, even this week, and would see real Italian owners. Giampaolo Pozzo is the man believed to be ready to buy the club and he's certainly a man who has more than a passing interest in football, so much so that in December 2011 he was quick to deny any suggestion of a bid for Portsmouth.
He's owned Italian Serie A side Udinese since 1986 and three years ago bought Spanish La Liga side Granada. It looks as though he wants to buy it for his son Gino. Maybe it's his birthday but that's one hell of a birthday present. The news is that any takeover could cost Sean Dyche his job as manager with Gianfranco Zola being touted to become the new boss. It all ended in tears last time Watford had an Italian manager when Gianluca Vialli replaced Graham Taylor.
Steve Bruce has got his feet under the table at Hull and that's been bad news for others who no longer have their feet anywhere at the East Yorkshire club. Coaches Steve Wigley and Stuart Watkiss have both been shown the door to make way for Bruce's team from Sunderland.
That team is expected to include coaches Keith Bertschin and Stephen Clemence, both of who worked with Bruce at Birmingham and Wigan as well as Sunderland. Bruce would also like to acquire the services of Bryan 'Pop' Robson who is the Mackems' chief scout.
Eric Black, Bruce's assistant on Wearside, won't be going apparently. They've fallen out and in any case Black has a secure position at Ewood Park as assistant to the local agent.
There was some good news at Ipswich and some sad news up at Middlesbrough. The Tractor Boys have welcomed back Bryan Klug to run their youth department. He was head of their academy until 2006 when he became assistant manager to Jim Magilton.
He moved on when Roy Keane arrived and joined Spurs but has now returned to Portman Road to head the youth system once more. It's considered to be a big and important appointment down in Suffolk.
The sad news was the passing of Colin Henderson, possibly not a well known name to those outside of Middlesbrough. Colin was the chairman who steered Middlesbrough through their darkest days in the mid-80s and he's lauded in that part of the world.
A fall out saw him leave the club in the early 1990s and he didn't even attend games, but his death has been felt by those still involved at the Riverside.
Finally a couple of stories worth reporting, one on ticket pricing and one on pre-season friendlies.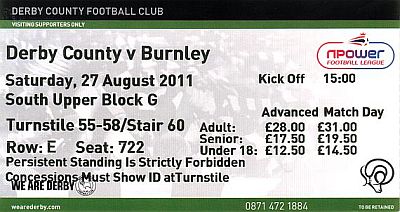 Last year between £28 & £31 but how much in 2012/13?
Last Friday, as Burnley's match day ticketing arrangements received heavy criticism, Derby County revealed that their prices next season and will fluctuate dependant on a number of key factors.
Prices could change on a daily basis on real time market conditions such as team performance, rivalries, day of the week and even the weather. They did say supporters booking early would get the best possible price. We're there in September so maybe we need to get our applications in now before the price goes up.
Poor Barnsley. They've desperately been trying to arrange a home friendly and wanted one on Saturday 11th August. A visit from Sheffield Wednesday has become a tradition but with the two teams back in the same division that was ruled out. Sheffield United didn't want to know, after all they came second best to their City rivals at the end of last season so wouldn't want to take sloppy seconds on friendlies.
Barnsley thought they'd cracked it with Fulham, but they eventually said no. Director Don Rowing said: "The manager (Keith Hill) is trying to find a club but it's getting late now. It's a shame about Fulham.
"They said they didn't want to play outside the capital. It seems anything north of Wycombe is a bit too far for them and they didn't fancy the trek up to Yorkshire."
Just to end. It was all quiet on the transfer front this week with only two deals going through, one of those Luke O'Neill's signing at Burnley.
The other was Bristol City's capture of Jody Morris from manager Derek McInnes' old club St. Johnstone. Whatever next - a manager signing players from his old club.
Interact with us