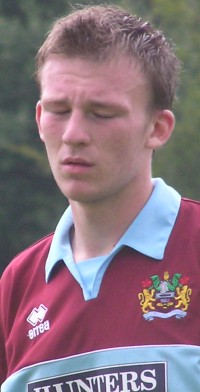 Rob Turner - will lead the attack

It is something of a major feather in the cap for these lads to have won their way through to the final given the number of players who are not available for selection. Second year apprentices Nicky Platt, Rob Henry and Cayne Hanley, have all left the club now and won't be taking part, and neither will central defenders Jack Overson and Tom Blackler and forward Jay Rodriguez who are all ruled out with injury.



That means Vince Overson and Terry Pashley will leave Burnley with a squad of sixteen that includes only five apprentices, second year goalkeeper Mark Crossley, and first years Paul Casey, Dale Underwood, Connor Smith and Ali Akbar.



The other eleven will all come from the club's under-16 and even under-15 teams, youngsters who will become apprentices either next season, or for some the season after.



They beat a much more experienced Bury against the odds on Monday and now face another tough task at the half a ground at Bloomfield Road this evening. If you get the chance, please go and give these lads your support, they really do deserve it.



Best of luck lads tonight.



Burnley's team is: Mark Crossley, Dean Stott, Ben Hoskin, Tom Bradley, Paul Casey, Dale Underwood, Connor Smith, Adam Kay, Lewis Craig, Ali Akbar, Rob Turner. Subs: Chris Rowney, James Craggs, Alex-Ray Harvey, Alex McDonald, Ash Young.