Bottom beat top as league tightens up
By Tony Scholes
Updated Monday, 5th December 2011
Views: 22
Doncaster Rovers climbed off the bottom of the league with a 1-0 home win against top of the league Southampton with the Saints holding top spot because of our fantastic win against West Ham at the Boleyn Ground.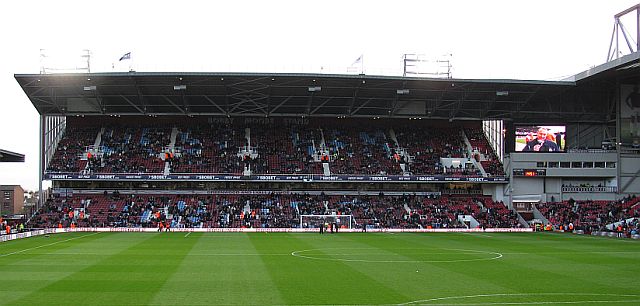 With news coming through that Billy Sharp's goal had won it for Doncaster, a win would have taken West Ham to the top for the first time this season and displacing Southampton who have held that top spot for all but two weeks since mid-August.
It wasn't to be and with both clubs losing it has allowed those just below to close the gap and the next three, Cardiff City, Middlesbrough and Leeds United all did that. Leicester, meanwhile, started Saturday in sixth place but went down to Hull City on Nigel Pearson's return to the KC just a couple of weeks or so after he walked out to take on Leicester.
The fixture list often throws up these games very quickly. It happened to Steve Cotterill at Portsmouth recently and Pearson got just what Cotterill got there, absolutely nothing with Robert Koren scoring a late goal for the home side.
The game of the day just had to be at Peterborough. The one thing you can expect to see at London Road is goals and there were an abundance of them with a quarter of the 28 Championship goals this weekend coming in this one game.
The visitors were Barnsley and they looked to be strolling it when they went 3-0 up ten minutes into the second half. They did win it, eventually, but not until they'd got a fourth after Peterborough came storming back with three goals in six minutes to draw level.
That Doncaster win has now seen Coventry dumped onto the bottom of the league. It's going to be a massive battle for them this season to stay up. They are now the Championship's longest serving club. It's their 11th consecutive season at this level since losing their Premier League place but you wouldn't bet against them playing League One football next season. They haven't played at that level since winning the old Third Division in 1963/64 season.
Overall, the league is looking so much better than it's done for some time. For the first time this season we need to look in the top half of the table to find Burnley and long may that last.
The results from the weekend along with the stats, the leading goalscorers, each club's disciplinary record and the highest and lowest attendances are all below along with the week's fixtures.
The Week's Stats

Biggest Win

Leeds United 2-0 v Millwall (away)

Total Goals Scored

28 (16 home - 12 away)

Player Scoring Most Goals

2 - Robert Snodgrass (Leeds United)

Highest Attendance

27,161 - Leeds United v Millwall

Lowest Attendance

8

,320 - Peterborough United v Barnsley

Total Yellow Cards

28

Total Red Cards

2

Most Cards in a Game

Cardiff City v Birmingham City (4Y 1R) Ref: Anthony Taylor
Leading Goalscorers (League Only)

12

Rickie Lambert (Southampton) - includes 5 penalties

10

Ross McCormack (Leeds United)

9

Matty Fryatt (Hull City) - includes 1 penalty
Darius Henderson (Millwall) - includes 1 penalty

8

Charlie Austin (Burnley)
Lukas Jutkiewicz (Coventry City) - includes 1 penalty
Grant McCann (Peterborough United) - includes 2 penalties
Chris Wood (Birmingham City)

7

Carlton Cole (West Ham United)
Guly Do Prado (Southampton)
Marvin Emnes (Middlesbrough)
Nicky Maynard (Bristol City)
Kevin Phillips (Blackpool)
Billy Sharp (Doncaster Rovers) - includes 1 penalty
Robert Snodgrass (Leeds United)
Pete Whittingham (Cardiff City) - includes 2 penalties

6

Keith Andrews (Ipswich Town)
Michael Chopra (Ipswich Town)
Craig Davies (Barnsley)
Adam Lallana (Southampton)
Craig Mackail-Smith (Brighton & Hove Albion)
Kenny Miller (Cardiff City)
Kevin Nolan (West Ham United)
David Nugent (Leicester City)
Jay Rodriguez (Burnley)
Jonjo Shelvey (Blackpool) - includes 1 penalty
Marvin Sordell (Watford) - includes 2 penalties
Paul Taylor (Peterborough United)
Hat Tricks
Date

Player & Game

20/08/11

3: Lee Tomlin - PETERBOROUGH UNITED v Ipswich Town

10/09/11

3: Rickie Lambert - SOUTHAMPTON v Nottingham Forest

11/09/11

3: Chris Wood - BIRMINGHAM CITY v Millwall

12/10/11

3: Darius Henderson - Leicester City v MILLWALL

02/11/11

3: Jonjo Shelvey - Leeds United v BLACKPOOL

19/11/11

3: Rickie Lambert - SOUTHAMPTON v Brighton & Hove Albion
Disciplinary Record (League and Cup)

Club

Y

R

Y

R

Club

Y

R

Y

R

League

Total

League

Total

Barnsley

29

1

30

1

Ipswich Town

20

3

20

3

Birmingham City

27

1

27

1

Leeds United

32

5

36

5

Blackpool

28

0

29

1

Leicester City

28

4

32

4

Brighton and Hove Albion

47

2

53

2

Middlesbrough

31

2

32

2

Bristol City

28

0

29

0

Millwall

33

0

36

0

Burnley

27

1

35

1

Nottingham Forest

29

2

32

2

Cardiff City

22

0

32

0

Peterborough United

27

2

29

2

Coventry City

22

2

23

2

Portsmouth

31

2

34

2

Crystal Palace

23

0

25

0

Reading

28

0

30

0

Derby County

29

1

29

1

Southampton

25

2

26

2

Doncaster Rovers

32

0

32

0

Watford

27

0

28

0

Hull City

34

1

34

1

West Ham United

28

1

28

2
Highest and Lowest Attendances

Highest

Lowest

Att

Fixture

Att

Fixture

33,465

West Ham United v Portsmouth (10/09)

6,351

Peterborough United v Cardiff City (18/10)

33,010

Derby County v Southampton (15/10)

7,650

Doncaster Rovers v Watford (26/11)

32,150

Southampton v West Ham United (18/10)

7,778

Doncaster Rovers v Bristol City (27/08)

31,812

Southampton v Brighton & Hove Albion (19/11)

7,901

Peterborough United v Burnley (17/09)

31,448

West Ham United v Blackpool (15/10)

7,928

Peterborough United v Ipswich Town (20/08)

30,410

West Ham United v Leicester City (29/10)

8,320

Peterborough United v Barnsley (03/12)

30,391

Derby County v Hull City (19/11)

8,426

Doncaster Rovers v Coventry City (29/10)

29,895

West Ham Utd v Peterborough Utd (24/09)

8,500

Peterborough Utd v Doncaster Rovers (01/10)

28,252

West Ham United v Leeds United (21/08)

8,685

Peterborough United v Hull City (10/09)

27,980

West Ham United v Bristol City (01/11)

8,900

Barnsley v Bristol City (29/10)
The Next Fixtures
Tuesday 6th December

Barnsley v Crystal Palace

Wednesday 7th December

Hull City v Birmingham City

Saturday 10th December

Barnsley v Ipswich Town (17:20)

Middlesbrough v Brighton & Hove Albion

Birmingham City v Doncaster Rovers

Millwall v Cardiff City

Burnley v Portsmouth

Nottingham Forest v Crystal Palace

Coventry City v Hull City

Reading v West Ham United

Derby County v Bristol City

Southampton v Blackpool (12:45)

Leicester City v Peterborough United

Watford v Leeds United
Interact with us