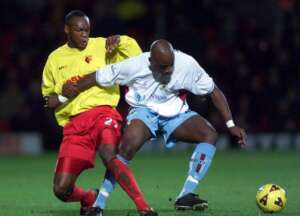 Arthur wins the ball
That happened to us right at the end of last year when we crashed 5-1 to Manchester City and so began a bad run. Now if good runs come to an end then bad ones should too. That is usually the case but you are always expecting the good run to end but somehow are never really convinced you are going to come out of that bad run.
It has taken just over a month but it finally came to an end tonight with a 2-1 win and never was it more deserved. The winner might well have been deep into injury time but there is no doubting who deserved to win this game and it certainly wasn't Gianluca Vialli's Watford.
I'm not sure what Vialli has done at Vicarage Road but based on what I saw tonight I sincerely hope they are not paying him. Instead of meeting at the ground this evening Vialli held his team talk in the Watford Hilton Hotel, in fact making use of the Chipperfield Suite. That immediately turned my thoughts to the circus and I wondered if they would come out like wild tigers or more like a set of clowns. Let's just say they didn't impress.
We suspected there would be changes tonight and there were although there was still no place for Robbie Blake in the starting line up. There were though two changes in the back four and both of them something of a surprise. Graham Branch was back at left back and this was unexpected given that he didn't even make the bench on Saturday. Still it gave the boo boys a target. More surprising was Ian Cox finding himself on the bench with Kevin Ball moving into the centre of defence.
I always thought Bally would pick up the captain's armband should Steve Davis miss a game but he found himself out of the starting line up when Steve picked up his injury and then again when Paul Cook went off to Wigan so both Cooky and Coxy have captained the side. Tonight he became the fourth player to lead the Clarets out this season.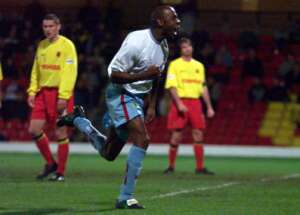 Ian Cox celebrates his equaliser
The changes in defence met with mixed success but more of that shortly. The first couple of minutes worried me but then we got a foothold on the game and were having the lion's (or was it tiger's) share of the play although Watford did occasionally threaten us. We were having early problems with right winger Jermaine Pennant and it was he who gave Watford the lead with a well taken goal although he should never have found himself with the shooting chance.
It wasn't long after that Stan decided on a tactical change and Branch, not for the first time recently, was substituted. This forced a reshuffle with Lee Briscoe going to left back, Ian Moore dropping into a midfield role and Robbie Blake going up front.
For the rest of the half we had most of the possession but weren't able to create too many clear cut chances although we did have the ball in the net through Ian Moore only to see it flagged offside.
The half time whistle blew and to be honest the 1-0 scoreline did not do us justice, on the balance of play I would have thought a one goal lead to the Clarets would have just been about right. We were playing better though and looking more like the side that in November and December won six consecutive games.
With around an hour gone the Burnley fans got their second wish of the evening granted, with Branch already off the next to be substituted was the ineffective Gareth Taylor. On came Coxy with Bally moving into midfield and Mooro going back up front. Within a short space of time the referee was given two major decisions to make. Firstly Lee Briscoe went down in the Watford box and was surrounded by Burnley players claiming a penalty. He said no and I think he was absolutely right. Right down the other end and an innocuous looking challenge saw him point to the spot, I think he definitely got this one wrong.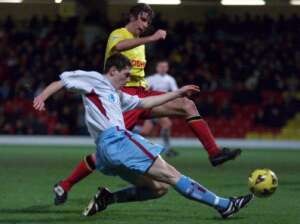 Brad Maylett gets in that last minute cross
I'm not Marlon's biggest fan but I told anyone who cared to listen that he has a good record with penalties. In the second game of his first spell with the Clarets he saved a penalty at Chester and he repeated it here tonight, going down to his left to save from Marcus Gayle.
We had been the better side by some distance so far in the second half but had that penalty gone in it could have been the end of the game for us. Ian Cox was the player adjudged to have conceded it but he more than made up soon afterwards, scoring his first Burnley goal of the season.
Having won a free kick just outside the box after Glen went on a mazy run we went for a new free kick taker tonight in Lee Briscoe. He crashed the free kick against the inside of the post to the keeper's right and it flew across goal where Coxy picked it up and hammered it high into the net. Level and deservedly so, now could we go on and win it?
Robbie Blake missed a chance to score his first Burnley goal and then Glen did everything right as he broke through but then put his shot narrowly wide. Still a point is a point and it had been a good performance.
The 4th official held up three minutes extra and Brad Maylett came on for the injured Robbie Blake. He only touched the ball twice and the first time he made a complete mess running the ball out of play. The second time he got the ball on the right and crossed, it wasn't the best of crosses but it got a deflection and gave Paul Weller the easiest of chances.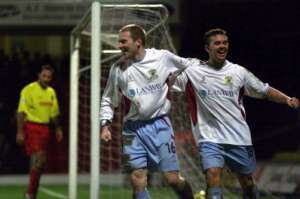 Ian Moore and Paul Weller celebrate the winner
Cue wild celebrations behind the goal as the Clarets fans celebrated what really was the only fair result. I thought we had played well in the first half, the second 45 minutes saw us perform as well as we have all season although Watford, to be fair, are far from being one of the strongest sides in the division. We had got our passing game going again and simply took control by out passing them.
There were so many good performances tonight but a special mention for two of them. Paul Weller thoroughly deserved to score the winner and what a difference a fully fit and in form Weller makes to the side. He was the pick in midfield for me.
My man of the match though ended the game in midfield but played the first hour of it in the centre of defence. I thought Kevin Ball gave us an awesome performance tonight. He gave us the organisation that was needed at the back and captained the side superbly. Alongside Arthur the two of them hardly gave Gayle and Noel-Williams a look in.
Finally the referee who apparently, according to a number of the Burnley fans there tonight, is having some kind of sexual relationship with the Watford chairman. This all came about after the two crucial penalty decisions both went against us. Other than that though Messias had another good game and based on this and his performance at Maine Road recently there cannot be many referees better than him.
The defeat at Maine Road started a bad run so we can only hope this much needed win tonight has now started a good run. One thing for certain is that the players can now go to Barnsley on Saturday with some confidence. Tonight we started to look like one of the better teams in this division again. Let's crack on Stan.
The teams tonight were,
Watford: Alec Chamberlain, Patrick Blondeau, Ramon Vega, Fillipo Galli, Wayne Brown, Micah Hyde (David Noble 80), Paul Okon, Jermaine Pennant, Lee Cook (Stephen Glass 75), Gifton Noel-Williams (Jamie Hand 65), Marcus Gayle. Subs not used: Espen Baardsen, Lloyd Doyley.
Burnley: Marlon Beresford, Dean West, Kevin Ball, Arthur Gnohere, Graham Branch (Robbie Blake 31, Brad Maylett 87), Paul Weller, Tony Grant, Lee Briscoe, Glen Little, Ian Moore, Gareth Taylor (Ian Cox 60).
Referee: Matt Messias (York).