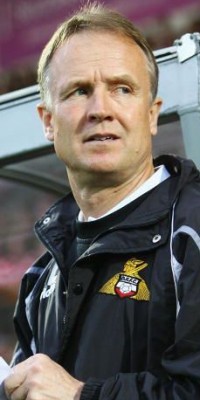 O'Driscoll started last season as manager of Doncaster but lost his job in September 2011 after a torrid start to the season. His return to football came via Nottingham Forest when he was appointed as Steve Cotterill's first team coach in January this year, and he held that position through to the end of the 2011/12 season.
On 16th May, keen to get back into management, he left the City Ground to become manager of Crawley Town but, without a ball being kicked in anger, he's returned to Forest, this time as manager.
The new owners breezed in last week, sacked Cotterill and announced they were looking for an iconic manager. Mick McCarthy was interviewed but didn't fancy it, Glenn Hoddle was favourite for a while, Darren Ferguson said no to it and Neil Warnock was believed to be under consideration.
Then, out of the blue, came the link with O'Driscoll. It was reported that he'd spoken to Forest, something vehemently denied by Crawley yesterday. By the end of the day he'd left Crawley after 64 days and was appointed new Forest boss.
Fawaz Al Hasawi said: "We interviewed many well known and high profile figures but we truly believe Sean O'Driscoll is the best man for the job. We are delighted to welcome Sean back to the club. He has our total support and we are looking forward to a long and successful relationship."
It's certainly an interesting one. There were some on the message board here who felt that Cotterill had appointed his successor when he took him on at the beginning of the year. That's happened now although not in the way anyone could possibly have envisaged.
Will he be a good manager for Forest? Time will tell, but Sean O'Driscoll iconic?
Meanwhile, Steve Coppell has stepped in on a temporary basis at Crawley.