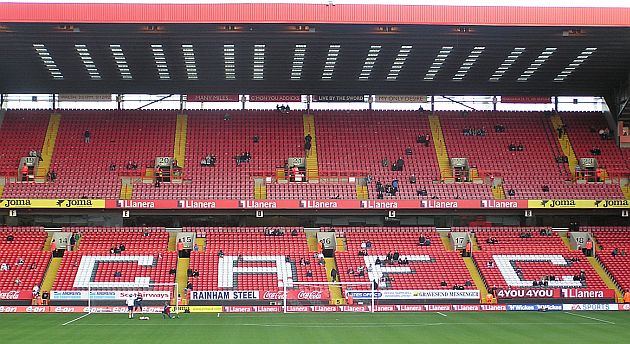 The Valley where the Charlton v Doncaster game was abandoned
The rain poured down in the south east of the country but I don't think I can ever recall a game being abandoned in August before. I do recall years ago an opening day game at Ipswich being suspended during a torrential downpour by referee Roger Kirkpatrick but on that occasion they got back on and finished the game.
The referee at Charlton on Saturday was Lee Collins. He suspended play with Doncaster winning 3-0. They came back and completed the first half, during which time Charlton pulled one back, but then he decided enough was enough and brought it to an end despite the efforts of the Doncaster players to try and fork the water away.
How about Doncaster's Paul Keegan. He scored a goal, but that's expunged from the records. He received a yellow card and that is also. However, he was given a second yellow card just before half time and therefore sent off. That one counts and he'll now serve a one match suspension.
Whether it was the correct decision to call it off or not will be open to debate. If you are losing 3-1 at home then I suspect you might be relieved with the decision. But there could have been something similar in Arsenal's 3-1 win at Fulham where again the surface water was having an effect on the game.
The game at Hillsborough might have been interesting had Sheffield Wednesday not lent Millwall their 2012/13 away kit. They somehow managed to turn up without any. Now I've seen us arrive with the wrong kit occasionally, and I've also seen us have the incorrect spelling of a player's name on the back, but never, as far as I can recall, have I known us turn up with no kit at all.
Millwall played in yellow and blue for the first half until their orange away kit arrived in time for them to change at half time. It might be something they try again. Without a point until Saturday they returned home with a first point from a 2-2 draw.
It was enough to see them move off the bottom, replaced by Barnsley who went down to a 5-2 defeat at Blackburn having had to play all but the first quarter of an hour with ten men after the dismissal of Jean-Yves Mvoto, and that when they led 1-0.
They are joined in the bottom three by Charlton who would probably also have remained on one point even if their game had been completed.
At the other end of the table there are now no longer any 100 per cent records. Forest were the only club to have won their first three games but they were held to a 1-1 draw at Watford with former player Lewis McGugan scoring the home team's equaliser.
Forest remain top on goal difference but are one of four on ten points alongside Blackpool, Leicester and QPR. Most of those I expected to be up near the top, Blackpool probably being the exception.
The results and stats from the weekend are below along with the leading goalscorers, the two hat trick scorers, each club's disciplinary records, the highest and lowest attendances so far and the next fixtures.
The Results
Tuesday 20th August

WIGAN 2 DONCASTER 2

Saturday 24th August

BLACKBURN 5 BARNSLEY 2

HUDDERSFIELD 5 BOURNEMOUTH 1

BLACKPOOL 1 READING 0

IPSWICH 1 LEEDS 2

BOLTON 0 QPR 1

LEICESTER 3 BIRMINGHAM 2

BRIGHTON 2 BURNLEY 0

SHEFFIELD WEDNESDAY 2 MILLWALL 2

CHARLTON 1 DONCASTER 3 - match abandoned

YEOVIL 0 DERBY 3

Sunday 25th August

WATFORD 1 NOTTINGHAM FOREST 1

WIGAN 2 MIDDLESBROUGH 2
The Stats

Biggest Win

HUDDERSFIELD 5-1 v BOURNEMOUTH (home)

Total Goals Scored

42 (24 home - 18 away)

Player Scoring Most Goals

3 - JAMES VAUGHAN (HUDDERSFIELD) v BOURNEMOUTH

Highest Attendance

26,007 - BRIGHTON v BURNLEY

Lowest Attendance

7,047 - YEOVIL v DERBY

Total Yellow Cards

34

Total Red Cards

3

Most Cards in a Game

BOLTON v QPR (7Y) Ref: JAMES ADCOCK
Leading Goalscorers (League Only)

5

TROY DEENEY (WATFORD) - includes 2 penalties
JAMES VAUGHAN (HUDDERSFIELD) - including 1 penalty

4

LEWIS GRABBAN (BOURNEMOUTH)

3

CHRIS MARTIN (DERBY)
ROSS McCORMACK (LEEDS)
LEO ULLOA (BRIGHTON)

2

GABRIELE ANGELLA (WATFORD)
LEON BARNETT (WIGAN)
ANDREW CROFTS (BRIGHTON)
GRANT HOLT (WIGAN) - includes 1 penalty
DANNY INGS (BURNLEY)
ANDREW JOHNSON (QPR)
JEM KARACAN (READING)
HENRI LANSBURY (NOTTINGHAM FOREST)
ADAM LE FONDRE (READING)
SHAUN MALONEY (WIGAN)
LEWIS McGUGAN (WATFORD)
CHRIS O'GRADY (BARNSLEY)
DARREN PRATLEY (BOLTON)
ANDY REID (NOTTINGHAM FOREST)
JORDAN RHODES (BLACKBURN)
THEO ROBINSON (DONCASTER)
JOHNNY RUSSELL (DERBY)
JAMIE VARDY (LEICESTER)
SAM VOKES (BURNLEY)
Hat Tricks
Date

Player & Game

10/08/13

3: TROY DEENEY - WATFORD v BOURNEMOUTH (home)

24/08/13

3: JAMES VAUGHAN - HUDDERSFIELD v BOURNEMOUTH (home)
Disciplinary Record (League and Cup)

Club

Y

R

Y

R

Club

Y

R

Y

R

League

Total

League

Total

BARNSLEY

4

2

4

2

IPSWICH

4

0

5

0

BIRMINGHAM

11

0

14

0

LEEDS

5

0

6

0

BLACKBURN

6

0

8

1

LEICESTER

5

0

5

0

BLACKPOOL

6

0

7

0

MIDDLESBROUGH

4

0

4

0

BOLTON

8

1

8

1

MILLWALL

5

0

5

0

BOURNEMOUTH

7

0

9

0

NOTTINGHAM FOREST

9

0

9

0

BRIGHTON

7

0

8

1

QPR

8

0

8

0

BURNLEY

8

1

9

1

READING

6

0

6

0

CHARLTON

2

1

4

1

SHEFFIELD WEDNESDAY

8

0

8

1

DERBY

9

0

11

0

WATFORD

6

0

8

0

DONCASTER

6

1

6

1

WIGAN

3

1

5

1

HUDDERSFIELD

6

0

7

0

YEOVIL

7

0

11

0
Highest and Lowest Attendances

Highest

Lowest

Att

Fixture

Att

Fixture

33,432

LEEDS v BRIGHTON (03/08)

7,047

YEOVIL v DERBY (24/08)

26,238

BRIGHTON v DERBY (10/08)

8,707

DONCASTER v BLACKBURN (16/08)

26,007

BRIGHTON v BURNLEY (24/08)

8,717

YEOVIL v BIRMINGHAM (10/08)

25,535

NOTTM FOREST v HUDDERSFIELD (03/08)

9,002

DONCASTER v BLACKPOOL (03/08)

23,766

LEEDS v SHEFFIELD WEDNESDAY (17/08)

9,097

BOURNEMOUTH v WIGAN (17/08)

23,437

DERBY v LEICESTER (17/08)

9,503

MILLWALL v HUDDERSFIELD (17/08)

22,725

LEICESTER v LEEDS (11/08)

9,554

BARNSLEY v CHARLTON (17/08)

22,306

NOTTINGHAM FOREST v BOLTON (17/08)

10,085

BURNLEY v YEOVIL (17/08)

22,282

SHEFFIELD WEDS v BURNLEY (10/08)

10,108

BOURNEMOUTH v CHARLTON (03/08)

21,229

LEICESTER v BIRMINGHAM (24/08)

12,025

HUDDERSFIELD v BOURNEMOUTH (24/08)
The Next Fixtures
Saturday 31st August

BARNSLEY v HUDDERSFIELD

DERBY v BURNLEY

BIRMINGHAM v IPSWICH

DONCASTER v BOURNEMOUTH

BLACKBURN v BOLTON

LEEDS v QPR (12:15)

BLACKPOOL v WATFORD

MIDDLESBROUGH v SHEFFIELD WEDNESDAY

BRIGHTON v MILLWALL

WIGAN v NOTTINGHAM FOREST

CHARLTON v LEICESTER

YEOVIL v READING