Underdog - A review of the new Tim Quelch book
Feature by Dave Thomas
Updated Friday, 11th November 2011
I had a problem with this review. It is such a marvellous book I couldn't think how to do it justice.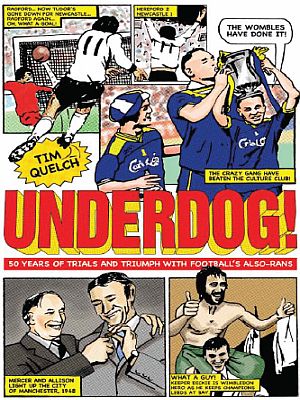 Let's say immediately that although the theme is so broad and Tim looks at the exploits of a dozen underdog teams, there is also enough Burnley material to make it a worthwhile addition to any Burnley shelf.
In essence it's a journey; it is Tim's nostalgic journey through life and football from his first match at Chelsea when his father took him along in 1958 to see the game against Wolves. In his own words: "This book is about one 'Baby Boomer's' account of how football has evolved over the last 50 years…. It also captures the grinding hardships that struggling teams and their supporters frequently endure… this is a personal journey too of growing up and older with football played largely outside the fast lane."
It does all of this and more with a beautiful evocation of times gone by:
"August 30th 1958 was a day of swooning heat. The huge glass roof at Paddington station incubated the warmth from the sun and that from its many copper-domed steam locomotives. Wispy, shimmering vapours conveyed the scent of sulphur, tar and scorched oil. Ruddy-faced men in open-necked shirts and loose flannels heaved strapped, swollen, brown leather suitcases into the crammed chocolate and cream carriages. Meanwhile, intricately curled or pony-tailed women stood aside, coolly issuing instructions. Some wore flared floral skirts with broad black belts while others sported straight shift dresses… "
Then it follows him through time to 2008, 50 years later, and a journey to see the new Aldershot playing at Exeter to secure promotion back to the Football league. The 50 year time span explains why Tim doesn't include our own favourite underdog story; that of "little" Burnley making their way to the Premier League in 2009 against all the odds.
Along the way, amongst others, he writes about Hastings United, Norwich, Brighton, Huddersfield, Leyton Orient, Ipswich, Northampton, Carlisle United, QPR, Manchester City (believe it or not they were once penniless), Hereford, Matlock Town, Wimbledon and Blackpool. Leeds United come into the story but that's when they're on the receiving end of giant-killing acts.
Of course Tim is now a Burnley fan but he is a fan of football in general and in particular the exploits of any small club, or even the once big club fallen on hard times.
It is also a tribute to his father from whom he learned to appreciate the struggles of the small club overcoming adversity. In his early days Hastings United was his team. He went to games at Brighton and Brentford. It wasn't until 1970 that he 'discovered' Burnley. Now that he lives in Skipton after many years in Hampton he is conveniently closer to his 41-year old mistress.
Before heading north to Lancaster University (a building site when he arrived) he didn't get much of a chance to partake in 'the summer of love' and San Francisco hippiness. Instead, he spent his time in Hastings Chess Club.
"I settled for the womb-like warmth of my local chess club, heavy with its aromas of polish, tea, toasted teacakes and cigars. Here, an ancient gas fire popped and flared all day, every day whatever the weather.It was an ideal bolt-hole for the socially lame… I loved this reclusive refuge, particularly on glowering winter afternoons. Periodically looking up from the chess board, I would watch the beaded raindrops on the window glass outside, their tiny inverted reflections of the rushing sky quivering in the wind… and here in this haven from the storm, untouched and unnoticed by the passing years, the liturgy of chess was recited – the Queen's Indian, the Ruy Lopez, the Sicilian – in all its musty, imperial, consular glory."
Tim headed north in 1968.
"I arrived at Lancaster in the damp, overcast autumn of 1968 to find the new university resembling a Klondike town. The place was a building site with mud everywhere. Discreetly isolated in rural splendour our stay quickly became an exercise in experimental living. Joss sticks abounded, if only to subdue the rancid smell of our clothing. Vitamins were at a premium. They had a better diet on the 'Bounty'. Christmas was duly celebrated with scurvy. Those young men, who arrived with short back and sides, horn rimmed glasses and sports jackets, went home with flowing locks, John Lennon specs and beaded buckskin… Withnail and I had come to Lancaster."
Here at Lancaster he meets Baz. And Baz was obsessed with Willie Irvine. Tim's interest is aroused and he goes to watch him play when he was at PNE. There follows several pages of the story of Willie Irvine.
"Willie Irvine had enjoyed two and half successful years at Burnley, his parent club… he was smart on the ground and strong in the air. He put himself about with a strut, insinuating himself into the tiniest spaces to get a shot away, heaving himself above defenders with perfect timing to produce a flashing header. He would get up the noses of his opponents with his cocky, sometimes brash, 'gobby' manner. It was all part of the contest. Like the very best strikers he was always ready to pounce on the half-chance, eyes keenly alert, primed, nerve ends sparkling, leg muscles twitching in readiness, coiled to make that explosive start, just enough to put him ahead of his markers."
And then, 1970, Burnley versus West Bromwich Albion, Tim came to Burnley, his Damascus, his epiphany. He came with Dave down from Lancaster and Dave was a West Brom fan and Dave had his newly acquired Vauxhall Victor to show off.
It was a foul day. Dirty, ragged clouds rolled in from the Irish Sea, dragging with them curtains of rain.Stepping out onto the greasy cobbled street, a blustery wind propelled stinging, spiteful rain into our screwed-up faces. All around us were scars of industrial blight: the derelict mills, the oily canal and the weed-strewn, rusted marshalling yards. Yet beneath the drab and rain-darkened moors, stone-terraced Burnley appeared welcoming. The inviting light falling from latticed windows, the flickering front room fires did not mock our discomfort so much as draw us in, making it possible to feel at home here."
"Little did I realise this, then, but a claret and blue potion had been injected into my veins. Life would never be the same again."
There are just a handful of games involving clubs other than our own, going back many years, where we might smile and think: "Yes I remember that." Tim looks at some of them.
There's Colchester 3 Leeds United 2 in the FA Cup when Leeds were in their pomp. It was February 13th, 1971. Who were Colchester? The result was never in doubt – or was it? Colchester had the old England and Ipswich centre-forward Ray Crawford in their side. He banged in two of the goals. With 29 minutes to go Leeds remembered who they were and piled on the pressure. It became 3–2 but Colchester hung on to produce one of the most famous upsets of all time.
The next one was Hereford knocking Newcastle United out of the Cup in 1972. Who will ever forget that marvellous long distance Ronnie Radford goal on the gluepot pitch?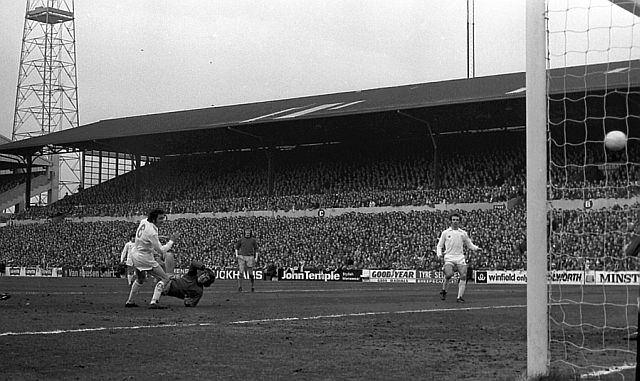 Burnley feature a great deal. At Leeds they win 4–1 just before a Cup semi final game. Leeds were a superb side. Burnley had just come up from the division below. Burnley fans who were there will remember it well. Paul Fletcher will remember it for the overhead goal he scored. Frank Casper will remember it for the horrendous over-the-touchline tackle from the wound-up Norman Hunter that nearly took his leg off. Mrs T and me saw it close-up from just feet away and witnessed the savage fury in Hunter's screwed-up face and narrowed eyes as he tore in. He had one thing in mind and achieved it. Revie was stunned at the game's result.
Ironically Tim doesn't mention the even greater shock of little Burnley in '68 beating Leeds 5–1 at Turf Moor with a team of kids. Tim wasn't a Burnley fan then. It was the game when Don Revie decided that Dave Thomas would go on to be one of the best players in Europe.
And then later it was 'mighty' Burnley who were humiliated by a Wimbledon side that won at Turf Moor in the FA Cup on January 4th, 1975. They were a non-league side then. It was a shock result. We went home shaking our heads. We didn't know it then but a year later Adamson's "team of the seventies" would be officially dead.
It was Blackpool, the Division Two team, as the underdogs against the bigger Burnley, who terminated them. Ironically they were managed by a re-juvenated Harry Potts. But the latter were in turmoil, a fragmented and fractious club. The magical Leighton James had been sold. Bob Lord and Jimmy Adamson were at loggerheads. Jimmy was at loggerheads with his coaching staff. It was a team consisting of some players who loved him, and some who were not his sworn disciples. Blackpool won in a snarling game. There are descriptive passages in this section that are absolute masterpieces. Tim is never better than when the weather is foul and there is a storm in the background piling in off the Blackpool coast and "a wind howling ghoulishly." He was at the game:
"We rose early on that bright Saturday morning, unrested and irritable, with a long drive ahead of us. The debris of the night's torment lay everywhere: fallen trees, torn branches, collapsed fences, overturned dustbins and scattered litter.The deep-blue morning sky seemed free of impurity but soon the clouds gathered."
It might have been a description of the weather, but it was a metaphor too for the state of Burnley Football Club itself and its future.
On and on goes the book filled with tales of derring-do and paragraphs of the most exquisite writing. Matlock Town and Peter Swan's management: remember his involvement in a betting scandal and ban from the game… the rise of Watford and Graham Taylor… Oxford United, Robert Maxwell and Jim Smith… Swansea City and a memorable win over Leeds United… the Burnley-Orient game… Wimbledon and their unexpected triumph over Liverpool in the Cup Final… and then on to Bristol City:
On 28 November 1981, Tim watched Burnley play Bristol City at Ashton Gate. With money very tight, Liz and he took in lodgers. Going to a game became a rare treat. But in this game he saw for the first time the precocious talent of 18-years old Trevor Steven.
"Oblivious to the frenetic tackling, he played with his socks bunched round his ankles. He was in the centre of everything. He played quick one-twos with his fellow midfielders, Kevin Young and Tommy Cassidy as he probed for openings. Whether passing short or long, he executed his service with composed precision. He looked for runners on one side of him, only to suddenly reverse direction and pick out an unmarked colleague on the other. Nothing seemed to trouble him. He was unruffled by the rough and tumble, creating space around himself with nonchalant calm.He seemed to have so much time on the ball. With a feint here, a drop of the shoulder there, he continually eased away from trouble. On a heavy, churned surface he played as if on a bowling green."
It was an uncle who first introduced Tim to Aldershot.
"The Aldershot ground was enchanting. We queued outside the turnstiles housed in Edwardian huts of frosted, coloured glass. Behind them were meticulously maintained flower beds and shrubs, etched into a closely clipped lawn, which sloped upwards. A row of mature, elegant trees provided this verdant garden with swishy shade. I half expected to receive a putter in exchange for my admission fee."
17 years on, April 15th 2008, he makes another journey as a well-wisher, showing his respect for the people who had put so much hard work into the resurrection of the club. Aldershot were away at Exeter and needed just one point.
Finally he ends with a tribute to his father. I warn you now. It is one of the most moving homages I have read. His father ended his days blighted by dementia and just sometimes Tim and his ailing parent would sit together watching a game at Brentford because his dad, even in his muddled state, liked going back to Griffin Park. If you can read this final paragraph without pausing to think about life and the sadness it can bring, then you are a hard, hard person. Prepare at the very least for a lump in your throat.
This review can only provide the briefest glimpses of this magnificent book. I constantly read football books. This one is a joy and evidence that football is not entirely tainted by the greed of big clubs. It is a game that has been filled with romance and fairy-tales when 'little' clubs triumph over the big. Who knows what the next FA Cup games will bring. Who knows when 'little Burnley' will ever reach Wembley again and the padlocked Premier Bell in the Jimmy Mac Stand corridor will resonate with celebratory rings?
UNDERDOG: Pitch publishing, 434 pages with illustrations. £14.99
Interact with us
Sponsored links