Perceptions and the State of Play
Feature by Dave Thomas
Updated Thursday, 24th November 2011
The dust from the end of year accounts settled and the near £4million deficit was no surprise. That it would be thus had been said long before the accounts were published.
The question: "Where has the money gone," was pretty much answered, except people would have liked a little more explanation of the high operating costs. Exactly what do they consist of? How much of the costs were taken up by compensation paid to Brian Laws et al, and Bournemouth? The bit that stood out for me (not that I have read the whole thing) was that at the end-of-year there was only £20k in the bank, if I read it right.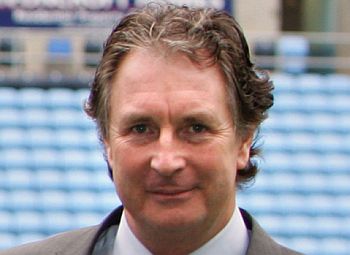 Paul Fletcher, another ex-Claret set to depart
So, on Saturday November 19th, there we were after a 2–1 defeat at home, and contemplating having no money. By the end of the next day we contemplated being just 2 points above the drop zone after Bristol City won. It looked horrible. I can't imagine that Barry Kilby didn't think the same.
The general picture at that point seemed to be that; some supporters have their grumbles about Eddie Howe. The most severe say he is out of his depth. Others say he lacks the contacts within the game to find the essential loan players needed.
But, the majority realised that he needs time and patience and were incredibly open-minded. He was receiving tolerance in abundance bearing in mind the season's low win percentage of not even 33%. There are few if any grumbles about the actual appointment of Eddie Howe. He was the hot property, being courted by Charlton and Crystal Palace. The CV was good. The generosity being displayed towards him may have shifted somewhat after the Birmingham game.
The grumbles that do exist go back to the Laws appointment, but on that score the directors will argue till the cows come home that there was no one else either available or interested at such short notice. The supporters reply to that is simply to ask why he was given such a lengthy contract. Why was he allowed to inflate the wage bill so much? The perception, rightly or wrongly, is that the Laws appointment and its consequences, was a major cause of the loss.
That EddieHowe was receiving the benefit of the doubt stemmed from the general perception that, "he'd had the rug pulled from under his feet" by the Board, although how fans perceive things is not necessarily the same as what actually happens behind the boardroom door. But what they perceive is that player sales and cost-cutting are boardroom policies not Eddie Howe's. Howe is seen as the victim with little say in the decision making process. The view is that he has so far worked with his hands tied behind his back. The majority rue the sale of Fox. The verdict was split on the sale of Elliott. The rest of the departures were seen as inevitable.
Opinions about the Board ranged from wanting to see them replaced, to the other view, by what or by whom? There is a boardroom mantra that says if you know anyone better or wealthier than us you know where to send them. The rumour started that FUN88 would be taking over.
It was certainly just about everyone's view that a Venky situation was the last thing Burnley needed. By all accounts, behind the scenes there, things are a shambles, with them taking out loans on the strength of the club's future income. That way real disaster lies. There is a story that they are behind on their payments to the Walker's Trust, or were behind until they were chased for payments. An analysis in the Daily Telegraph suggested that a Leeds United/Portsmouth situation could really happen.
Meanwhile Barry Kilby has made teasing comments about retirement. My personal hunch is that he will see out the season and then really consider his future at the club. What next, Brendan Flood as chairman perhaps? There is no Modus money. He has a huge court case coming up. He may not win. The quiet one on the board is Mike Garlick. John B provided the most recent substantial loan.
A third ex-Claret departed to add to Martin Dobson and Vince Overson. A fourth, Paul Fletcher will depart. Is it simply cost cutting, or are there other reasons. If it is the latter, they will presumably remain behind the boardroom door. It was reasonable in Paul Fletcher's case to suppose that there is more scope for him to work in a UCFB role. The Lancs Telegraph report revealed he is/was thought to be at loggerheads with a BFC Director. It is reasonable to wonder if it might be to do with do with clashes between his CE role and whatever work he has so far done for the University. In the meantime until he leaves, his CE role ceases and he moves to the commercial side of things.
The departure of Willie Irvine produced a stream of what you might call 'classic' messageboard outrage when probably only Willie and the club knew what really lay behind it. The perception is cost-cutting and, or, shabby treatment. I'd hazard a guess it was neither. But the word 'perception' is an important one. It relates to how supporters frequently see things from the outside without knowing the facts, whether they relate to Willie Irvine, player-sales, Eddie Howe, cost cutting or whatever else.
Supporters have debated the merits and shortcomings of "this team." It needs time and patience, like the manager some say. It will come good. It will mature. It has potential. But at the same time it is seen by others as weak, lightweight, lacking grit, containing at least two below-average players, lacking a leader, unable to last a whole game, defensively frail. The perception is that this team is the product not so much of Eddie Howe, but of economy measures that were not of his choice.
What is certain is that it will involve us in a bottom three dog-fight unless key players are not brought in on loan. Or, unless young, up and coming players are bought who will then have higher re-sale value as they improve. The future is clear in that area. This will revert to being a club that must sell to survive once again. Meanwhile "this team" takes us ever closer to the trapdoor.
Over in a murky and damp Monday-morning Leeds, their supporters and media were honest enough to admit that theirs was an undeserved three points at the weekend. Just about all of them admitted to playing badly, and being played off the park for long spells. Some of them wondered just how they have managed to be in the top six. Believe it or not some of them appeared less than enamoured with manager Grayson.
My neighbour saw me drive up to the house the day after the game and came out of his doorway to smirk. I told him not to be too impressed by Leeds since the way things are any team can come to Turf Moor at the moment and sneak off with the points. I reminded him that this was also a No Smirking Area.
And so to Birmingham: a coach trip with the Supporters' Club. The talk was of pretty much everything outlined above. The last away trip had been to Bristol. The direness of the performance there had not been forgotten. Birmingham was not quite so bad and until the last minute you though that a point was a good result. Alas Birmingham waltzed at 100mph through the defence leaving several of them on their backsides. In truth it was a cruel end. The first half display was poor but the second had a degree of fight and determination that merited a point. But, how on earth Birmingham didn't go in at least 2–0 up at half-time was baffling. Marlon King missed an absolute gift.
Bartley equalised early in the second half and Burnley upped their game and more than matched Birmingham for 20 minutes or so. Mind you, that wasn't too difficult. Birmingham were very average. Alas for the last 20 minutes you kind of feared that it would be Birmingham that got the winner. McCann was subbed. He didn't seem to have been much worse than anyone else. Treacy had a very good game, Grant and Bartley too. On the coach near us most people chose Treacy as MOTM. Birmingham's MOTM was their 7-foot centre forward Zigic which must surely have been a joke. With a yellow beanie hat on he could have been a lamp post. For all our troubles thank God he doesn't play for us.
Overall there was a kind of sadness watching this side. It was based on the question just how has it come to this. Just how have we ended up with a side that is as poor as this so often, so vulnerable, so easy to beat? The deficiencies are glaring. There was a kind of resignation after this fourth consecutive defeat, an acceptance that this is not going to get much better unless some tougher, more determined players are brought in. The coach journey home was quiet and reflective, most people too weary, or stunned by the lateness of the winner, to grumble.
And the mood towards Eddie Howe shifted perceptibly. The messageboards that I read up on (yeh sad I know but this is your intrepid reporter undertaking valuable research) and there are several, shared a common link. All of them displayed an ever so slightly shifting perspective on the manager. Until Birmingham he clearly had the benefit of the doubt from the majority. But afterwards it was less so. There was nothing like the animosity that was displayed towards Brian Laws after 11 months, but neverthless the doubts were being expressed more volubly. But he has to stay. He has to see it through and so must we.
What also emerged more strongly was that this defeat had an increasing number of people fearing the worst and using the 'R' word.
It was a long day. Mrs T and me thought the coach left the Turf at 2.30. Wrong: it was 3.30 so we nipped up to Towneley Garden Centre for scones and jam; very nice thankyou. London Clarets readers of my gripping column, lead by Pauline, approached us at the ground to ask had we found the cat yet. That was kind. Alas the answer is no and we like to think that she has been taken in by some nice old dear, preferably not a Leeds United supporter, who feeds and loves her (tear in my eye). Speaking of nice old dears, the two sat in front of us on the coach shocked us by giving the finger to Birmingham fans as we drove off. Just in case the cat has hopped on a National Express and is wandering the streets of London, she is a ginger and brown tabby and answers to Molly.
Back in Burnley at 12.30 and back in Leeds by 1.30, the new kitten sitting at the top of the stairs yawning; what a life. Writing this the day after, I felt groggy and bleary-eyed, the kitten proudly carrying a toy pink mouse by the tail. It tortures it by dipping it in the water bowl.
I have this great opening line for the game at West Ham, the next away trip for me and Mrs T, if we get tonked 6 – 0.
"There was bad news before the game… the team turned up." (Only a joke for God's sake)
My fingers are crossed I don't have to use it.

Interact with us
Sponsored links