Clarets enough to drive a man to Benedictine
Feature by Tony Scholes
Updated Tuesday, 6th April 2004
From time to time a football match report is worth more than a second glance and one that's the case with one from the national press this week.
It comes from the Daily Telegraph and their reporter Tony Francisí recollections of the 5-3 defeat against Norwich. We have reproduced the report below.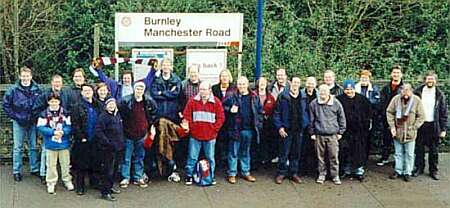 No sign of Douglas on this picture of the London Clarets
Pic © London Clarets


Clarets enough to drive a man to Benedictine
Tony Francis
There are two ways of reacting to a result like Burnley 3, Norwich City 5. You can pop into the Clog and Spindle for a hot Benedictine or you can absorb the thoughts of Douglas Alderson in a crowded train shelter with the rain dripping down your neck.
He began this way: "It's all over. The game's called moneyball and we can't compete." Mr Alderson astonished Norwich and Burnley supporters waiting for the delayed 17.19 by announcing that he had been watching the Clarets for 73 years. We thought it was a joke. He didn't look a day over 55. In fact he was 82.
He attributed his creaseless complexion to ginseng tablets and "romantic sex". I was tempted to congratulate him on weathering 40 years of unrequited love at Turf Moor but he beat me to it: "Imagine if we could have bought two more players after winning the championship in 1960. There was no money then and there's no money now. Fans have to realise that on our resources we're a Division Two club."
Stan Ternent's team seemed to be hell-bent on fulfilling that prophecy. A chaotic defensive effort reminiscent of those six and seven-goal horrors last season, allowed Norwich to draw level three times before surging on to victory. Graham Branch, the club captain, played as if he had seen a ghost.
Another senior citizen on our disenchanted platform groaned: "If he's Ternent's best signing, I'll s*** sawdust!" Northern folk don't mince their words. I began to wish I had taken the Benedictine option. They tell me that ever since the East Lancashire Regiment developed a taste for the liqueur during wartime operations in France, more Benedictine has been drunk in Burnley than any other town in Europe. I'm not surprised if this is the way they play.
The octogenarian and the sawdust man were raised on Jimmy McIlroy, John Connelly and Ray Pointer - products of Harry Potts's youth scheme in the late Fifties and early Sixties. Heavens, Douglas almost remembers the 1920-21 Burnley team whose 30-match unbeaten record in a single season has just been matched by Arsenal. He said: "We played total football before Ajax were ever heard of." "Yeah, now we play total b******s!" his mate chipped in.
For a less impassioned view of the Burnley Factor, I consulted McIlroy himself. He is in his seventies now and was recently voted the club's all-time greatest. He told me: "How a little town like this produced the champions of England twice is a remarkable story. All the players were home grown. It'll never happen again."
McIlroy's Northern Ireland team-mate, Danny Blanchflower, tried to persuade him to join Spurs. The two of them stood outside the players' entrance before a league game one dank November day in 1959 watching the fans turn up in their flat caps and mufflers. Blanchflower asked: "How the hell can you live here?" McIlroy replied: "It's just the right size for an Irish village lad." He still lives here.
The flat caps went, along with 100,000 looms which made Burnley such an important cotton centre. However, the ratio of fans to population is still the best in England. One in eight Burnley fans presents himself at the turnstiles every other Saturday.
Now it's getting serious. Burnley are only two points above Derby in the drop zone. While not carrying the same stigma as disqualification from the Football League which haunted them until the final whistle in 1987, relegation to Division Two would be a smack in the face for the new regime. If ever a club was in caring hands, this is it.
"Burnley FC isn't just the focal point of the town, it is the town," explained Dave Edmundson, the chief executive. A case of football carried away with its own importance? I don't think so. Turf Moor is a theatre, an eaterie, a gym, a museum, a conference centre and a creche rolled into one. It's also a monument to everything that was pure about English football before we made the most uneducated sector of our society the richest.
Now you must excuse me because the train's coming and Douglas is about to reveal more of the secrets of eternal youth.
Interact with us